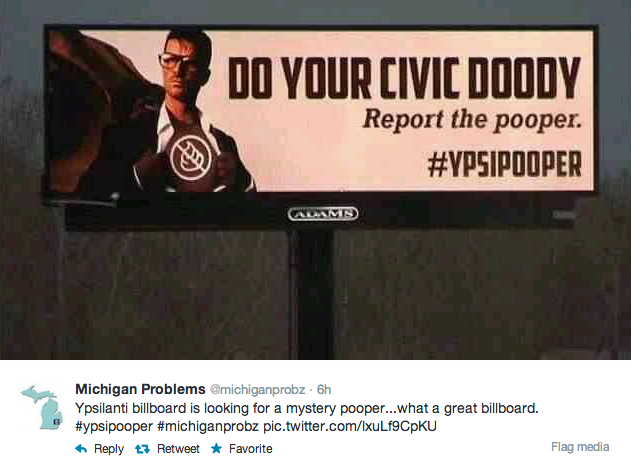 Where do we report for our T-Shirts? (via @michiganprobz)
It's been a while since society had a criminal with a really fun nickname, but now we have the Ypsilanti Pooper. It has just been announced that the police do have a person of interest for the crimes, but all that is known for sure is that for the past six months, someone has been pooping on the Prospect Park playground in Ypsilanti, Michigan. It should be noted that Ypsilanti is the home of Eastern Michigan University, where there are 20,000+ college kids. And although they were exceedingly nice (this is the Midwest, after all) when I did a show there once, there is at least one kid there who could be a suspect for random acts of defecation. Sorry, college kids.
A billboard around Ypsilanti is hoping to help catch the #ypsipooper #backchannel http://t.co/eWbDOlDpKF pic.twitter.com/ImmvwBAqDv

— WXYZ Detroit (@wxyzdetroit) April 18, 2014
I'm sure a billboard about 3rd-world hunger would get the same attention.
The billboard itself is owned in part by Adams Outdoor Advertising, and it was inspired by an employee at their Ann Arbor branch, about 6 miles from Ypsilanti, but the town has been consumed by the noxious nocturnal ne'er-do-well since his or her reign of fecal terror began. The impromptu PSA was not in coordination with (and apparently not to the amusement of) the local police. "We're not authorizing it and we don't need it," said City Manager Ralph Lange in an interview with MLIVE. The Pooper PSAs run in between other paid ads. "Our art guy had a lot of fun. He came up with a few designs," Todd Williams, manager of Adams Outdoor Advertising's Ann Arbor branch told The Daily Dot, "and I rejected a few." If you'd like to send those to us, we'd love to see them.
(by Johnny McNulty)