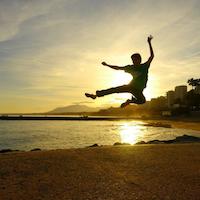 Filed by Mitchell Friedman

|

Jan 26, 2016 @ 9:59am
It might comfort you to know that Uber does not allow their drivers to carry firearms. Unfortunately, they don't all follow that rule to the letter, as one passenger learned about his driver Friday night in Bradenton, Florida.
On the way home with at least one friend, the victim asked his chauffeur, Patrick McDonald, to pull over because he felt like he might throw up. The driver obliged, but when the victim then told him he was fine to get back on the road, McDonald told him to get out of the car. According to the Manatee County Sheriff's Office report, the driver told the nauseous passenger that "he was not going to throw up in his $75,000 car." McDonald tried to drag the victim out of the vehicle, and they began to argue outside the car.