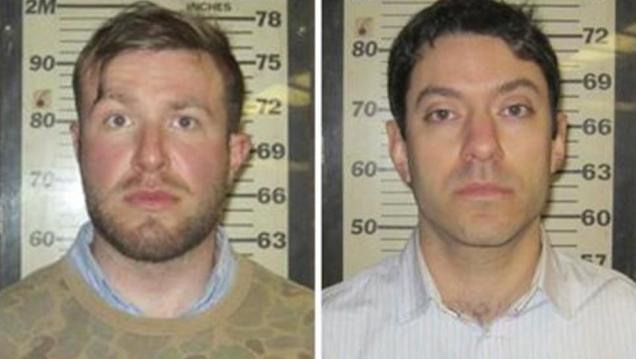 Slow news day? 
(Via Port Authority Of NY)
Two CNN producers were arrested today sneaking into the World Trade Center, looking for a story that might replace their 24/7 missing plane gold rush of "Just let Don Lemon talk about black holes for a while."  
Yon Pomrenze and Connor Fieldman Boals made several attempts to get past security into the Freedom Tower site, hoping to get their own first-hand scoop on the security lapses that allowed the three BASE-jumpers onto the roof back in September, and that were more recently breached by a teen with a camera who made it to the 104th floor. Unfortunately, they are not as good at breaking into buildings as extreme sportsmen or teenagers.
According to Reuters, the two men, armed with cameras, first tried talking their way in. Didn't work. Then they tried climbing over a fence. No dice. Finally, they tried getting through an electronic gate about a block away. That's when they got arrested, hopefully prompting one of them to shout, "Hey, I thought this was the freedom tower!"
Congrats guys. You may be in a cell right now, awaiting bail on charges of criminal trespass, obstruction of governmental administration, and disorderly conduct, but you got the scoop. Everyone else is reporting on how easy the World Trade Center is to get into. You proved them wrong, and you have the dismal mug shots as evidence.
(by Bob Powers)