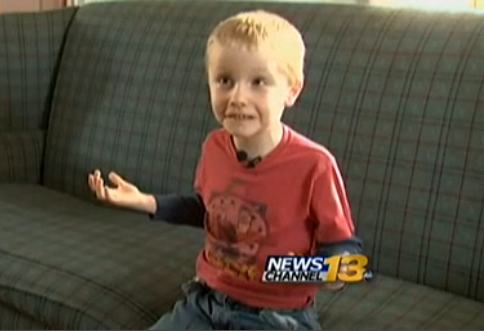 The boy hasn't been able to nap for days.
A six year old Colorado boy has been suspended from school for kissing a female classmate on the cheek. The boy had already been disciplined for kissing the same girl before, so it was decided the first grader's second offense called for several days in front of the television.
From there the story hops the train to Kookyville, because the school also labeled it "sexual harassment" on his permanent school record. Could you imagine if the worst thing you did as a six year old stayed on your permanent record? If your eyes happen to wander during a test on shapes you could wind up with "cheater" on your permanent record. God forbid a kid craps his pants during recess on Taco Friday because the result could be a rejection by his first-choice college over an indecency charge. 
Part of this has to be the school looking to protect itself if, God forbid, ten years from now the boy assaults someone and suddenly they're fighting charges that they protected a monster in their midst. But the girl didn't even complain! The kid was ratted out by classmates, who were likely jealous of his grade-A game.
This is exactly the kind of story that gets trotted out every time someone needs a "political correctness gone wrong" anecdote for an article about the Nanny State. And with good reason, because there has to be a more appropriate term than "sexual harassment."
Anyone injecting "sexual" into a first grade peck on the cheek needs a time out.
(by Jonathan Corbett)