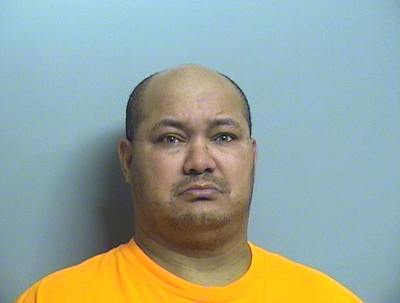 He's a fan of Van Gogh's later work.
Chris Lyons, his wife Desiree, and their 17-year-old daughter were enjoying a family outing at an Oklahoma bowling alley when they got into a tiff with the people using the neighboring lane and Chris got his ear bitten off. 
The Lyons were sharing a table with a group of seven girls when Desiree accidentally spilled one of the girls' drinks. There's usually a little unspoken competition with the next-lane-neighbors; sizing up who are the better bowlers, picking the most creative bowling names, sly glances to find out who is using the heaviest balls, etc. But spilled drinks are the things you're supposed to fake pretend aren't a big deal. 
Not for these girls. According to the the affidavit, the girls used the drink spill to start an argument, even while Desiree politely tried to clean up the mess. Her daughter requested a lane change. 
Very sane choice. 
The seven girls, however, would not be mollified. They paid their tab and left, but only after promising to return with their boyfriends. 
They did return, and not just with their boyfriends, but also one of their dads: formerly convicted felon Thomas Foster, who served time for shooting with intent to kill and assault and battery with a dangerous weapon. 
The gang began to beat up on the wife and then the daughter. When Desiree and Chris tried to rescue her, Foster straight up bit Chris's ear off like in a Mike Tyson prize fight. 
Beyond being criminally insane, it is just bad parenting. You don't want to teach your daughter to bite someone's head off over a spilled drink. Not even part of a head.
Police were unable to track down Mr. Bitey until last Friday, when they pulled him over for a traffic violation. Foster is due to have a hearing November 21st. 
The Smoking Gun reports that Lyon's ear was unable to be reattached, and he is seeking plastic surgery and skin grafting to repair the injury. Hopefully he will have his hearing any day now.
(by Myka Fox)