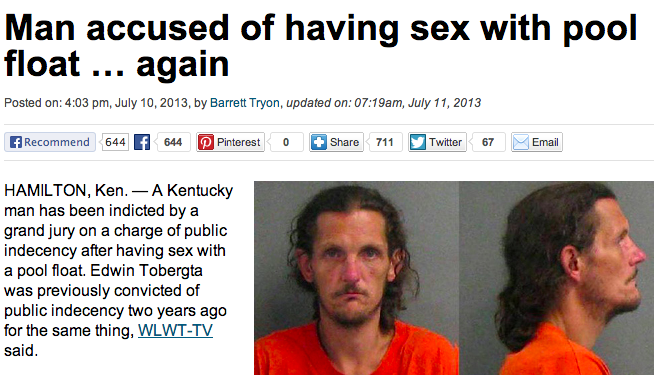 (via Fox 4 Kansas City)
Human sexuality is vast and wondrous, with many different realms to explore. There are people like you and me who enjoy the satisfaction of brief, shame-filled missionary-position heterosexual intercourse, followed by a scalding hot shower to burn the devil away. Then there are others, like Hamilton, Kentucky's own Edwin Tobergta, who so loves having erotic relations with pool floats that today he's in jail celebrating his second arrest for engaging in the act.
Edwin isn't alone in his love of having sex with weird, inanimate stuff. There are many other people who enjoy intimacy with objects you and I might not even give a second look if we spotted them on the shelf of a sporting goods store. Unfortunately, the only way we usually find out about these carnal adventurers is when they get arrested. It's been happening more frequently lately, with Edwin above, and the others below. These lovers deserve to be free to love whatever inanimate object they crave, no matter what that object's intended purpose might have been upon manufacture. To help out, here's a quick guide on how to have sex with weird stuff without getting arrested for it. Let's start with Edwin here.