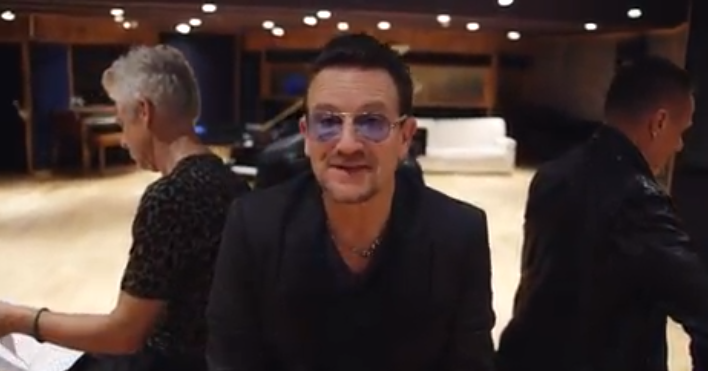 Just a drop of megalomania makes the album get downloaded. (Via FB)
Everyone knows that U2 came out with their album "Songs of Innocence" this summer when it was not so innocently automatically downloaded into playlists of everyone with an iTunes account. Yesterday, to celebrate the release of that album on CD and vinyl, U2 answered fans' questions in a video interview on Facebook.
So, as a fan, would you like to know...
WHY DID THEY MAKE EVERYONE WITH AN ITUNES ACCOUNT AUTOMATICALLY DOWNLOAD THEIR ALBUM??
Yes, yes, they get to that. But not before first answering some softballs like "Why doesn't [sic] Larry and Adam have cool names like "Bono" or "The Edge?" (answer: "That's unfair"), and "When does The Edge really want to throw Bono out of a window?" (answer: "Being in a street gang at 40 plus is more than unnatural." What?). And then, finally, FINALLY, we get the real question we want answered, nay, deserve to have answered.
"Can you please never release an album on iTunes that automatically downloads to people's playlists ever again? It's really rude."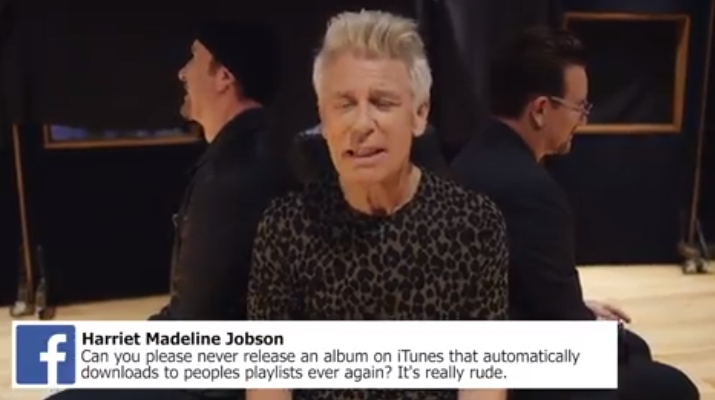 "Oops." (Via FB)
They are all seated with their backs to each other so no one has to look directly at Bono while he gives this response:
"Oops ... I'm sorry about that. I had this beautiful idea. Might have gotten carried away with ourselves. Artists are prone to that thing. A drop of megalomania, a touch of generosity, a dash of self-promotion, and deep fear that these songs that we poured our life into over the last few years might not be heard. There's a lot of noise out there. I guess, we got a little noisy ourselves to get through it."

Thanks, Bono. It's nice that even though you are wearing blue shades, you can still see you're a megalomaniac, but please note, the question wasn't "Why did you do it?" The question was "can you never do that again?"
It's actually less of a question and more of a desperate request.
Here's the full interview so you can hear what the apology sounds like coming through his own famous air holes.
I hope you made it to the end to find out "How do [sic] rock stars smell like?"
The answer: They smell slightly apologetic, and a little like sandalwood.
(by Myka Fox)