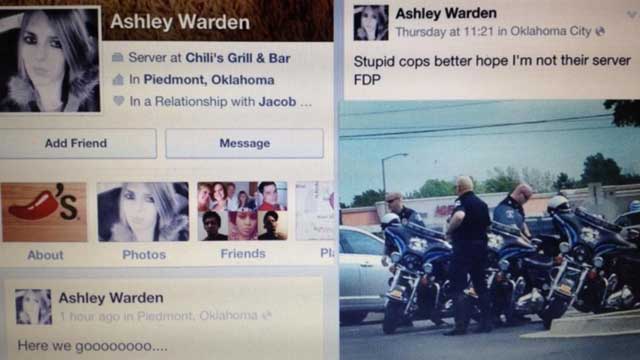 Maybe she's scared of falling for men in uniform...who are stupid?
Hey everyone posting stuff on the Internet right now. Are you listening? Cool. That stuff you're about to post on the Internet? It's gonna get you fired. No, seriously, it's gonna get you fired.
"But it's just a picture of my baby!" But some stuff you stole from the office is in the background. You're gonna get fired.
"But hey, all I wrote was that I had a great time at the park with my dog today." But you're friends with your boss and you told him you had to go to a funeral for your aunt. You're gonna get fired.
"But all I did was post a photo of Oklahoma sheriff's deputies with the caption 'Stupid cops better home I'm not their server FDP.'" Yup. And it says right there on your page that you work at Chili's, and after the post goes viral on police department Facebook pages and websites across the nation, law enforcement representatives are going to publicly condemn you, then track down which Chili's you work at and demand that you get fired. FDP means "Fuck Da Police" right? They don't like that.
"But I only did it because I'm still pissed that a cop gave my three-year-old son a $2500 fine for public urination when he peed on my front lawn." 
That's really effed up. Unfortunately, you're still gonna get fired.