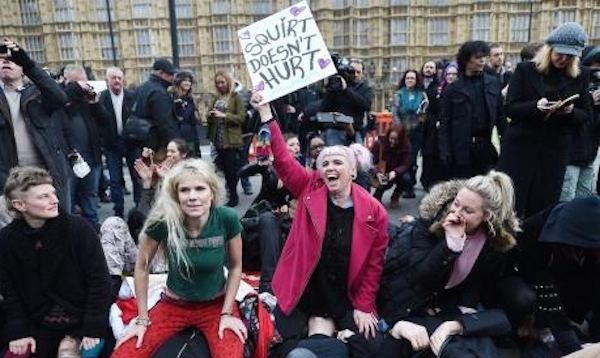 God made the squirt and the squirt don't hurt. (Via Mistletoe Maloney)
As you might know, the Brits recently changed their porn laws by regulating which acts those in the adult film industry could perform. The list of newly banned acts, which lawmakers said intended to reduce exploitation, but is seen by many to be an arbitrary selection. Even worse, many see the list outlawing female ejaculation (squirting) and facesitting to be directly targeted at female pleasure. Why, for example, is men's ejaculate perfectly acceptable fodder, and women's ejaculate considered dangerous? And if the public allows them to outlaw these acts now, what will the government feel they are free to outlaw in the future?
In an act of protest, hundreds of sex workers and campaigners have gathered in front of parliament to engage in a mass demonstration of facesitting.
The Guardian reports that "Organizer Charlotte Rose called the restrictions 'ludicrous' and said they were a threat to freedom of expression."
Here we see two protestors in "demonstration," while one sips a spot of tea.
Face-sitting protest outside parliament against new porn rules http://t.co/BDBIuL6TRQ pic.twitter.com/Bn9PYsxqQb
— The Guardian (@guardian) December 12, 2014
Charlotte Rose also spoke more about censorship, stating, "There are activities on that list that may be deemed sexist, but it's not just about sexism, it's about censorship. What the government is doing is taking our personal liberties away without our permissions."
The list, which included female ejaculation and facesitting, also included acts that they deemed "harmful," and so have outlawed penetration by items normally associated with violence. As such, sexing up a gun is now illegal, but going wild on a Christmas tree is still fair game. Personally, I think getting rammed by a Christmas tree sounds way more violent, but hey, I'm just one person.
Hundreds of people came out for this protest, and could be heard yelling, "What do we want? Face-sitting! When do we want it? Now!"
And when the mass face-sitting began, those without their mouths full sung Monty Pythons' "Sit On My Face."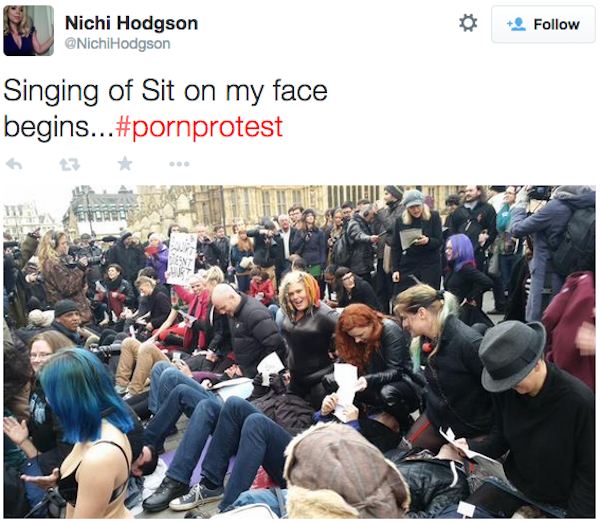 ... and tell me that you love me! (Via Nichi Hodgson)
Mistress Absolute, a professional dominatrix and fetish promoter, told the Guardian that the law was restrictive and that, "I felt that this was the beginning of something to creep into my sexual freedom and sexual preferences. This is a gateway to other laws being snuck in."
Good work, everyone. And rest assured that, whatever the British government is trying to "sneak in," at least we know it won't be anything "associated with violence."