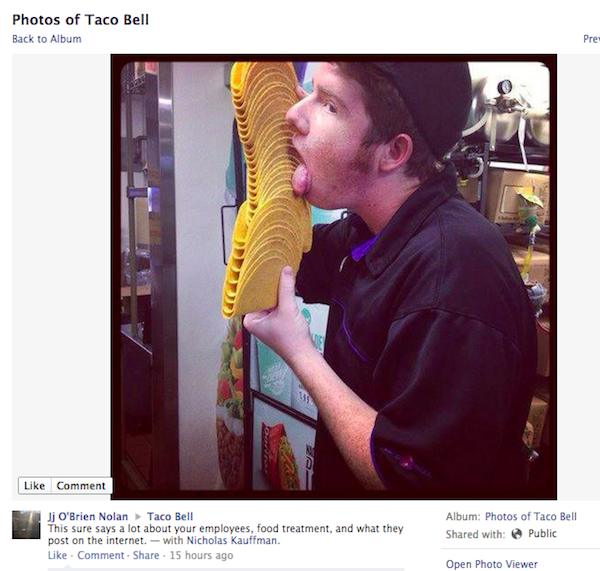 Did he even ask those taco shells for consent?
Look, when we go out for fast food, we're not expecting a 100% hygienic experience. A little saliva, a healthy dose of sneeze juice, the fry cook's cold, reluctant tears: all of these things enhance the particular flavor experience we desire. But lately it seems like everyone who works at these places is getting fresh with the entrees—and we don't mean in terms of ingredients. That's the only explanation for this photo, posted to Facebook by the perp or one of his friends and shared on Taco Bell's page yesterday. Commenters identify it as being from Ridgecrest, California. It's still unclear if the taco shells were about to be thrown out or served to customers, not that either outcome is particularly appetizing.
If you're going to be giving tongue to a vat of sour cream topping (and we get that, we really do), please keep it to yourself. No posting the photos to Instagram (#fireme). Print them out and tuck them into your journal, and then delete them from your mobile device. Meanwhile, we and Taco Bell will try to forget that you get what you pay for when it comes to tacos and minimum-wage fast-food workers.