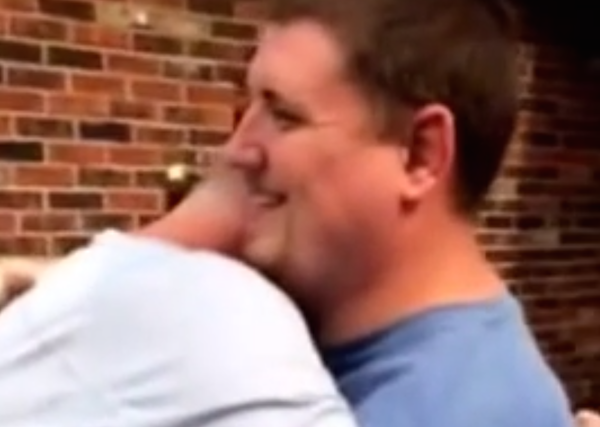 The man to beat for Son Of The Year.
If you're the kind of person who wells up watching grown men cry, then grab a tissue, because we're predicting tears in your forecast while watching this video of man following through on a boyhood promise he made to his father.
Roger King grew up poor in a family with 7 children, and talked often about owning his dream car, a 1957 Chevy Bel Air. So much so, that when his son Mike was 8-years-old, he told his dad he would buy him one for his 57th birthday. Enough time had passed that Roger had long ago forgotten about the promise, but not Mike, who stayed true to his word and surprised his father with the sweet ride earlier this week.
Mike actually bought the car two years ago and had been hiding it in his garage while it was being restored, keeping the surprise from his father the entire time. On the big day, dad was lured out of the house under the guise of fixing a yard game, and while he was distracted, the garage door was opened to reveal the gift.
Mike posted the video to reddit several days ago and wrote that, "My dad has been everything to me, he is not my biological father but he IS my father. But this man in this video, my DAD my FATHER, was the best thing that ever happened to me and my mom and I hope I can be a fraction of the man that he is."
The video went viral almost instantly, and the story is so sweet that even the comments would be universally positive, if not for those few hard cases that will never forgive a vertically shot video.
(by Jonathan Corbett)