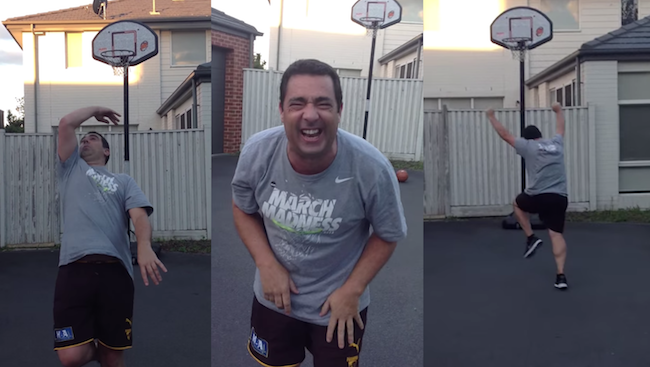 "In your face! And in my pocket!"
This Australian father appears to have a fantastic relationship with his daughter. Hopefully, their bond is strong enough to withstand the potential strain created by dad's miracle basketball shot, which made him the winner of a bet freeing him from the responsibility of paying "even one dollar" for anything his daughter may want for the rest of her life. His entire financial responsibility as a parent was riding on a no-look, reverse shot in the family's backyard court.
Dad was clearly feeling the pressure, because he threw up an absolute brick, which didn't appear to have prayer of going in before it bounced off the fence and into the hoop.
The daughter could make the argument that dad lost the bet. Because, as has been pointed out in the YouTube comments (along with cries of "fake!" and "vertical!"), dad technically missed the shot once the ball sailed past the hoop, sending it out of bounds before the fence intervened. 
Either way, I have a feeling these two will be able to work out dad's financial obligations on the basketball court, and not a court of law.
(by Jonathan Corbett)