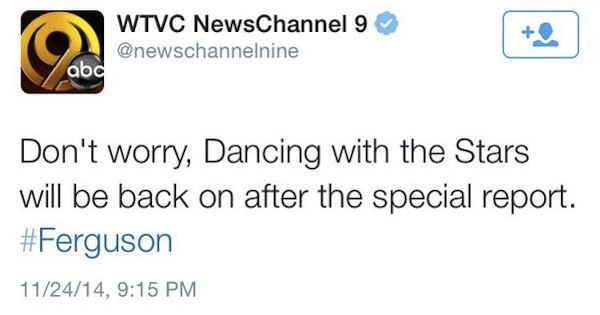 I do not think that hashtag means what you think it means. (screengrab via @knifesex)

Tensions were running high last night all over the country. After the Ferguson verdict came in, and a grand jury revealed they would not indict Darren Wilson, a lot of people were looking for somewhere to direct their anger.
Luckily, they had ABC affiliate WTVC out of Chattanooga, Tennessee. At 9:15pm, the station tweeted "Don't worry, Dancing with the Stars will be back on after the special report. #Ferguson." Some people set fire to buildings; other people tweeted at WTVC.
@knifesex @gingerlee I feel like burning the world down after reading this.
— KMB (@KMB2476) November 25, 2014
@newschannelnine what kind of racist piece of trash network
— folie á deux (@babykrule) November 25, 2014
@newschannelnine wow I guess dancing with the stars is more important than a young black life! Racist crackers!! #Ferguson
— SuckaFree (@KeepingIt420) November 25, 2014
The station apologized a bunch of times:
We've removed our very poorly worded tweet from earlier to stop the bad signal from spreading. Please accept our sincerest apologies.
— WTVC NewsChannel 9 (@newschannelnine) November 25, 2014
We did not mean to be insensitive with our previous tweet about DWTS vs. Ferguson. We apologize if it was perceived that way.
— WTVC NewsChannel 9 (@newschannelnine) November 25, 2014
But the damage was done, and annoyed viewers were not feeling very forgiving. Whoever coordinates the station's social media feeds definitely had a rough night. On the plus side:

For a meltdown of epic proportions, watch @newschannelnine try to recover from its awful tweet. But hey, they follow back!
— Jessie Opoien (@jessieopie) November 25, 2014
(by Shira Rachel Danan)