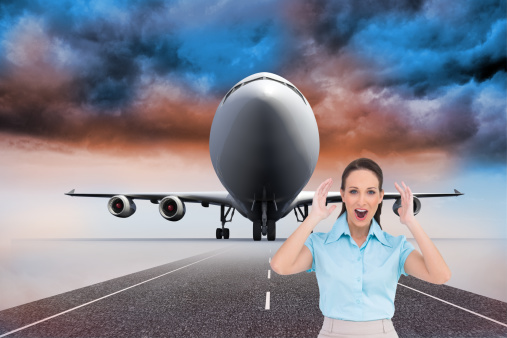 Lets turn this international flight into a domestic dispute.
A woman was arrested Sunday at Halifax Stanfield International Airport because she ran onto the tarmac in an attempt to stop a plane she believed her husband was taking to see another woman. 
According to The Chronicle Herald, the woman displayed a modicum of sanity at first, and approached the someone at the airline counter and asked them to stop the plane because she was sure her husband was trying to meet up with another woman. When it became apparent that the folks at the counter were not going to help her with her reasonable request, she found her way onto the tarmac by climbing over a three-foot barbed wire fence. 
"She ended up going onto the bigger runway and she was essentially wandering around there," and employee said. "She was literally going to try to stop the plane."
Even though an airport authority worker managed to snatch the crazed woman and get her into a truck, she opened the truck door and screamed out of it, so the employees had to subdue her. They don't say how she was subdued, but with any luck, they gave her the classic pre-takeoff ritual of one Valium and a couple of those tiny bottles of vodka.
Authorities contacted her husband, he claims he wasn't even on the plane. Whoops!
Apparently, Canada goes easy on women who breach security at international airports if it is even remotely possible their husband is cheating on them, because the Mounties say they will not press charges. 
(by Myka Fox)