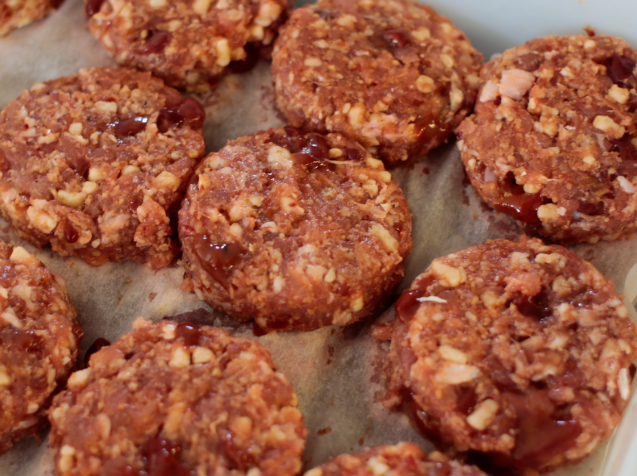 This flesh burger is not to be eaten by fleshlight. (Via Metro)
This burger is not really made of people, but it is supposed to taste like it is, which is still plenty disgusting enough for me to kinda want to try it. 
In honor of the fifth season of The Walking Dead, Messhead, a collaboration of two London chefs, has created a cannibal burger that they say estimate the taste of human flesh. 
Miss Cakehead and Mess London chef James Thomlinson claim they've never eaten humans (prove it), so to mimic the taste of their seared brethren, they studied the descriptions of multiple cannibals. Then, like Frankenstein's monster, concocted a mix of  pork, veal, chicken livers and bone marrow to best replicate the taste and texture. 

"It all depends on the body part being consumed, and the method of cooking." (Via Metro) 
In his book Jungle Ways, infamous cannibal and author William Seabrook described eating a piece of a human he pilfered from a med student saying, 'It was like good, fully developed veal: not young, but not yet beef. It was very definitely like that, and it was not like any other meat I had ever tasted. It was so nearly like good, fully developed veal that I think no person with a palate of ordinary, normal sensitiveness could distinguish it from veal."
So, if you consider yourself a normal person who has eaten veal, you might as well consider yourself a normal person who has tasted human, but just to make sure you get that flavor seared in your head, Metro UK reports you can taste yourself for yourself on "Tuesday, September 30th, from the Terminus Tavern pop-up in a secret location in East London (to be revealed via the #terminustavern hashtag on twitter)."
(by Myka Fox)