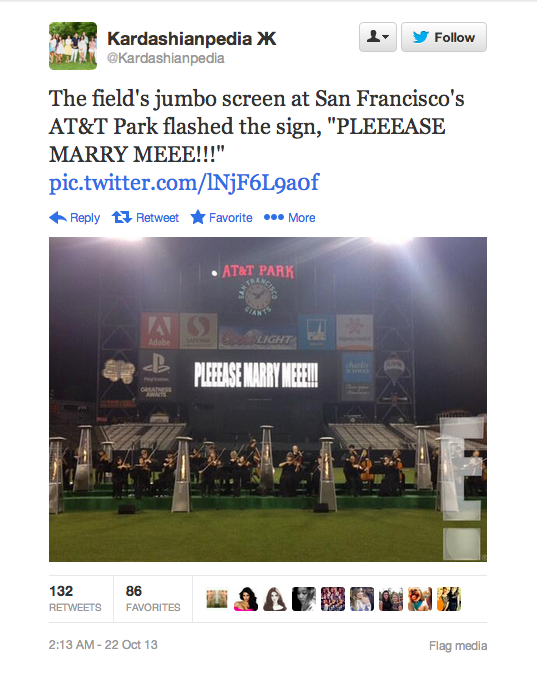 Luckily, Kim used her portable jumbotron to respond, "Yeeeeeeeessssss!"
Kanye West proposed to Kim Kardashian last night in a manner that probably sounds a lot like the way your dad proposed to your mom: there was a ring (15-carat diamond rivaling the size of a regulation ping pong ball), some music (a private 50-person orchestra rented to play a Lana Del Rey song, apparently Kim's favorite), and some nice ambience (an empty NFL football stadium rented out solely for the affair). Just a sweet young man asking his best girl if she'll be his forever (via Jumbotron).
SPOILERS SPOILERS SPOILERS SPOILERS SPOILERS!!!
Kim said yes.

(Via clydehairgod on Instagram)
Congrats to them both, and we think they could really go the distance**! We already know things are going well in the bedroom (or in the jacuzzi full of marshallows or wherever they might prefer to make their magic happen). Man would it be something to see that wedding. If only these two were the type to share that kind of thing with a basic-cable viewing audience.
(by Bob Powers)
**"the distance" = Longer than the duration between Paranormal Activity sequels.