Some students deserve their debt.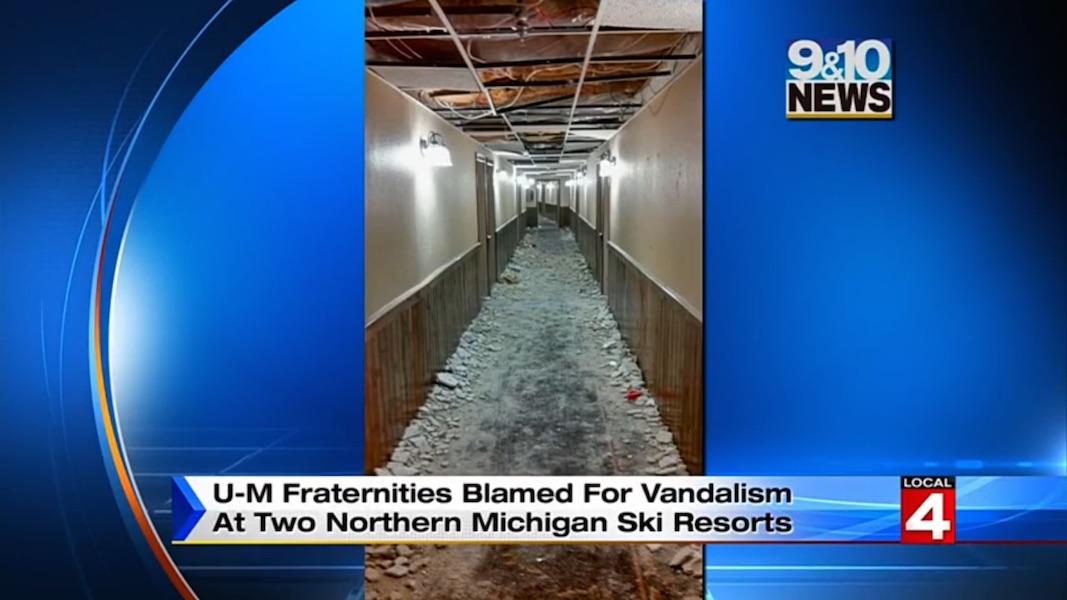 Even the spirits from The Shining would have run away from these kids.
The University of Michigan chapter of Sigma Alpha Mu, or Sammy as they were called at my school, is in the spotlight for their bold demonstrations over the Martin Luther King Day weekend... demonstrations of what gigantic buttholes they are.
Destruction following alleged @umich #fraternity Sigma Alpha Mu party at Treetop ski resort. $50K+ in damages #local4 pic.twitter.com/ZesHn7uJVv
— Priya Mann (@Local4Priya) January 21, 2015
Members of the fraternity went on a trip to the Treetops ski resort in central Michigan for the long weekend, and instead of reflecting on the legacy of Dr. King, they opted to engage in a days-long rager that ended with the group being escorted from the hotel by police and taken back to U of M.
Treetops manager Barry Owens says his hotel suffered $50,000 in damages to furniture, carpets, ceilings and walls. Guests also reported that the stench of vomit permeated the entire resort, and apparently there were so many incidents of bodily fluids contaminating the rooms and halls that a specialized hazmat team had to come and sanitize the area.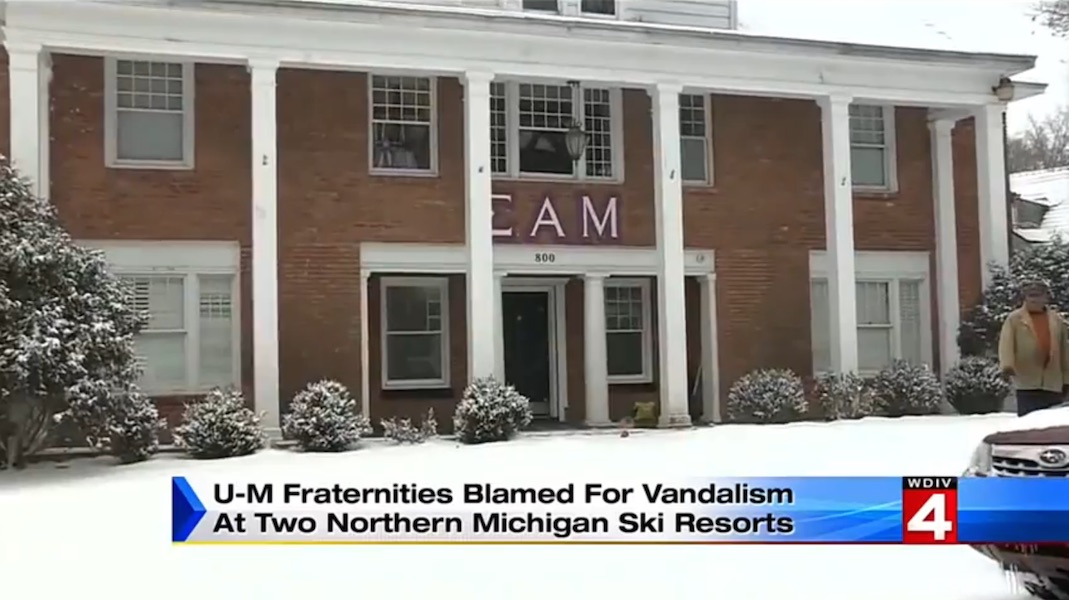 Butthole headquarters in Ann Arbor, Michigan.
Knocks to the chapter house's front door are currently going unanswered, however Sigma Alpha Mu's president did release this attempt at contrition:
"We are embarrassed and ashamed of the behavior of a few of our chapter members at the Treetops Resort over the weekend of January 17-18. This behavior is inconsistent with the values, policies, and practices of this organization. Our chapter accepts full responsibility for this incident and we will be working with the management of the resort to pay for all damages and cleaning costs. We will work within our own organization and with university officials to hold those who are responsible accountable for their actions. There will be no further comment from this chapter or organization regarding this matter."
-- Joshua Kaplan, Chapter President
In a second incident, members of two other U of M frats were suspected of causing thousands of dollars in damages to condominiums at the Boyne Highlands ski resort in the north of the Lower Peninsula. The administrators of the condos are opting to keep that incident private and away from press and police.
RabbiJason : Sigma Alpha Mu #Michigan frat members decided to redecorate ski resort http://t.co/7rTwlOZZmA #SAM... pic.twitter.com/PWbWO3YkZj
— Joe Francis (@joefrancis) January 21, 2015
Here is a statement from the University's spokesman, Rick Fitzgerald,
"We are very disappointed in the behavior of some of our students during a weekend visit to two northern Michigan ski resorts. I want to assure you that the organizations and the individuals involved will be held accountable for their actions. While we are still gathering information, we understand that the damage at Treetops Resort and Boyne Highlands is expected to total in the thousands of dollars. U-M staff members in the Office of Greek Life have begun meeting with the presidents of the fraternities and sororities involved. We expect full payment for all damages. The local Greek chapters are in the process of notifying their national organizations, which could bring their own sanctions. We are confident the national organizations will take this seriously and will work through this situation in collaboration with the university. Additionally, these incidents will be addressed through the Greek Life student judiciary process on our campus."
On the other hand, even if these guys need to keep things quiet during rush next year, at least everyone already knows they can party...