George Clooney isn't dazzling you with his smile today. This is serious. (via Getty)
How bad is the fallout from the North Korean attack on Sony? It's so bad that George Clooney got up on the highest high horse of self-righteous Hollywood grandstanding...and he was 100% right.
The former world's most eligible bachelor and the Timothy Dalton of Batmen gave an interview today to Deadline where he denounced the cowardice of his fellow Hollywood elites in their failure to act like the incredibly important world leaders they usually pretend to be. Why? Because they all apparently have embarrassing emails and don't want to get caught making racially insensitive jokes about the President like Sony executives Amy Pascal and Scott Rudin. Said Clooney:
"Here's the brilliant thing [the hackers] did. You embarrass them first, so that no one gets on your side. After the Obama joke, no one was going to get on the side of Amy, and so suddenly, everyone ran for the hills...They know what they themselves have written in their emails, and they're afraid."
It turns out that, beginning at least a week ago, Mr. Clooney had been circulating a petition among producers, stars, agents and other industry bigwigs that, when you read it, seems like it should be a no-brainer for anyone with a big ego and even an iota of patriotic duty. It turns out that not a single person in the movie industry had the willpower to put their name on a document standing up to North Korea (which the FBI confirmed just minutes ago). Check it out:
On November 24 of this year, Sony Pictures was notified that it was the victim of a cyber attack, the effects of which is the most chilling and devastating of any cyber attack in the history of our country. Personal information including Social Security numbers, email addresses, home addresses, phone numbers and the full texts of emails of tens of thousands of Sony employees was leaked online in an effort to scare and terrorize these workers. The hackers have made both demands and threats. The demand that Sony halt the release of its upcoming comedy The Interview, a satirical film about North Korean dictator Kim Jong Un. Their threats vary from personal—you better behave wisely—to threatening physical harm—not only you but your family is in danger. North Korea has not claimed credit for the attack but has praised the act, calling it a righteous deed and promising merciless measures if the film is released. Meanwhile the hackers insist in their statement that what they've done so far is only a small part of our further plan. This is not just an attack on Sony. It involves every studio, every network, every business and every individual in this country. That is why we fully support Sony's decision not to submit to these hackers' demands. We know that to give in to these criminals now will open the door for any group that would threaten freedom of expression, privacy and personal liberty. We hope these hackers are brought to justice but until they are, we will not stand in fear. We will stand together.

I don't have to tell you that he was not successful. Sony has pulled 'The Interview' (despite accidentally releasing a new promo for it last night), and even more spectacularly, Paramount has tried to ban showings of Team America: World Police in theaters that wanted to play that film in protest. Clooney cites this film (which itself mercilessly mocked Hollywood stars' moral grandstanding, including Clooney) as proof that we don't need to bow down to North Korea or any government that may now try to replicate that dictatorship's success in intimidating American moviemakers.
"The South Park guys did it. They blew up his father's head. The truth of the matter is, of course you should be able to make any movie you want. And, you should take the ramifications for it... But to say we're going to make you pull it. We're going to censor you. That's a whole other game. That is playing in some serious waters and it's a very dangerous pool."
Well, technically they impaled Kim Jong-il and then a little cockroach crawls out of his...well, I don't want to give it away. There are (unconfirmed) rumors that the Alamo Drafthouse Cinema in Dallas may defy Paramount and screen the film anyway, despite my report yesterday that they had to give up. It's been quite a ride.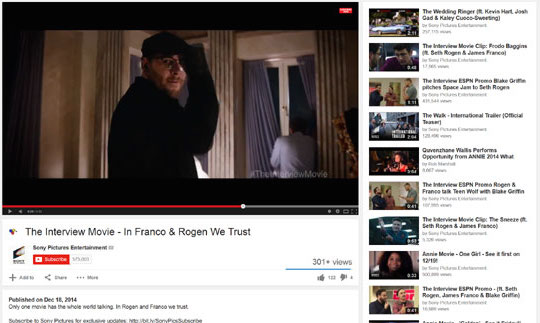 A screenshot from the (now-deleted) trailer Sony accidentally released yesterday. (via)
But, what of that other media? You know, the one that plays on the little box Clooney used to do ER on? The uglier people who sit in front of the camera and tell you what happened that day in the world. News! Right, that's what it's called. What about the news? Well, they were too distracted by the pretty baubles of embarrassing emails (and some pretty awesome ones) and other scandals to really digest the fact that an American studio had been attacked by a foreign government.
"They were just enjoying all the salacious sh*t instead of saying, 'Wait a minute, is this really North Korea? And if it is, are we really going to bow to that?' You could point fingers at Sony pulling the film, but they didn't have any theaters, they all pulled out."
Clooney goes on to do a good job explaining why Sony could not have stood firm without massive support from others in the industry, since ultimately theater owners felt like they would be legally liable for anyone who got hurt if a terrorist attack came to pass. Indeed, right now the only theater owner offering to show it is none other than Game of Thrones author George R. R. Martin, who owns the Jean Cocteau Cinema in Santa Fe, New Mexico.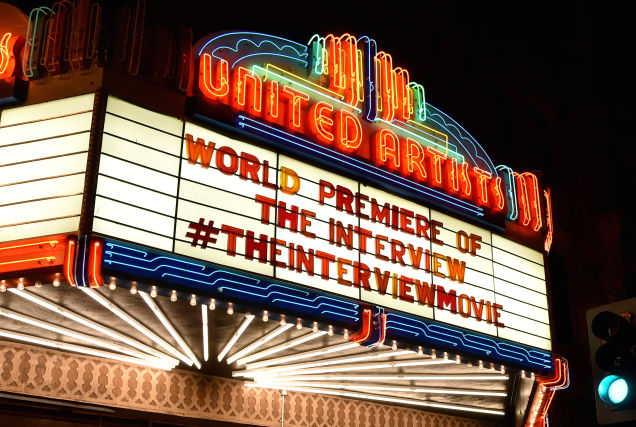 So, is this picture always going to be hilarious now, or what? (via Getty

The real question, he says, is what we as a society are going to do about this going forward. Now that terrorists, state-sponsored and otherwise, know they can make American studios bow down like this, it's only a matter of time before they try again. As for the government, they're weighing a "proportional response" to North Korea, but is bowing under any pressure going to be what Clooney calls the "new paradigm" in the entertainment industry? Clooney himself said he urged Sony to put the film online, not to make money from it, but just to show that foreign governments cannot choose what Americans watch.
After all, he says, he's at the age where he wants to make, you know, really important stuff. And if this is what happens over a "silly comedy," what's going to happen when someone makes a film criticizing Putin or exposing corruption abroad or at home? What happens when it's someone more powerful than North Korea?
As George R. R. Martin so eloquently and profanely put it on his LiveJournal when he offered to show The Interview at his cinema, "It's a good thing these guys weren't around when Charlie Chaplin made The Great Dictator. If Kim Jong-un scares them, Adolf Hitler would have had them shitting in their smallclothes."
Well put, you dirty old genius. And now, because freedom, I'm gonna put the Team America trailer here for like the fourth time this week.