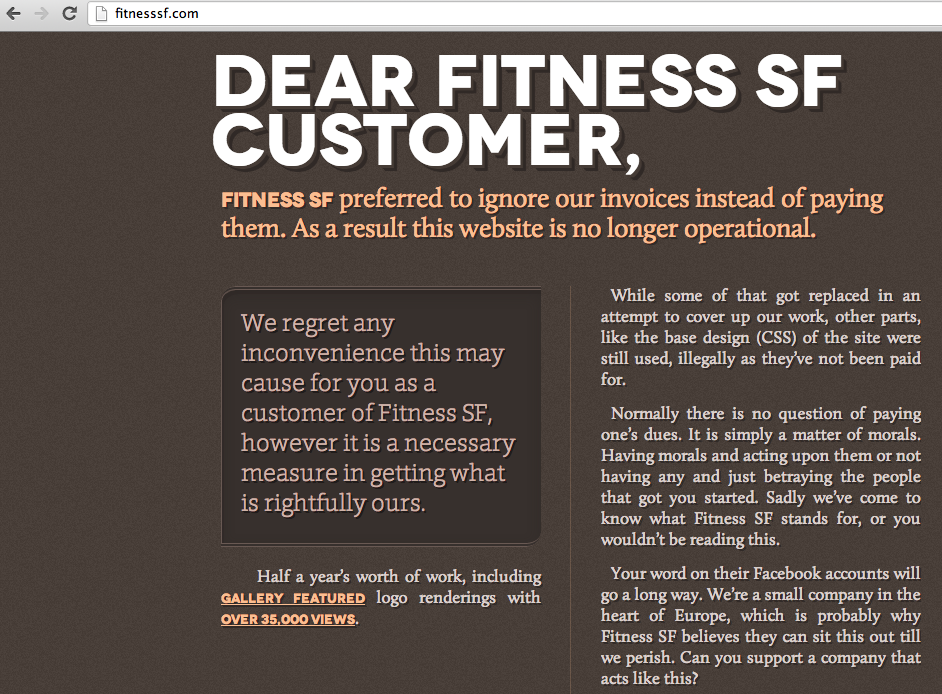 The "SF" now stands for "So F**ked."
Freelancer vengeance. It's always a beautiful sight to behold. Corporations have a time-honored tradition jerking around freelancers and making them jump through hoops for a measly $300 check. They think we're a dime-a-dozen and we're all sitting at home in our underwear trimming our beards over the kitchen trashcan (okay, that's somewhat accurate). But if you're going to pay anyone on time, you might consider paying the guy who has all your website passwords. The rest of us are powerless, but your web designer has the capability of forcing prospective customers to read delightful diatribes against you like this one that took over the site of a fitness company. They'll even go so far as to turn your web presence into a Les Miz-style call to arms for freelancers everywhere, as per below:
Pay your freelancers. Or don't. We're sure this version of the website is more enjoyable than the one they were contracted to create, so more hijackings by disgruntled designers will only make for a more entertaining internet.