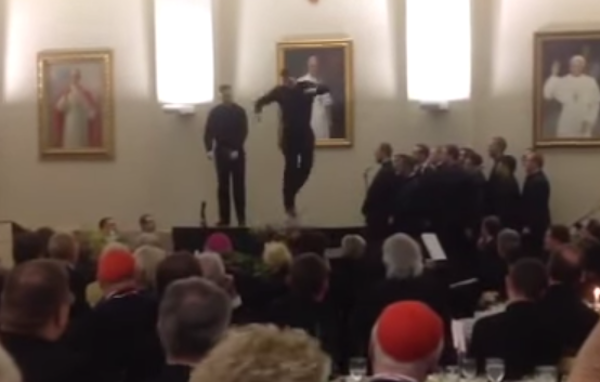 Step Up 777: The Devout
Back in April, at a fundraiser for the Pontifical North American College in Rome, Rev. David Rider of Hyde Park, NY decided to liven up the event with a little bit of tap.
Rev. John Gibson of Milwaukee, WI saw Rider tearing up the floor and thought, "Oh, Hell heavens no."
Gibson took the stage waving his arms, shoeing away Rider and his steel-soled shoes so he could have some room to show him how they do it back in the Irish homeland.
As far as Rider was concerned, this wasn't over by a long shot. And thus was born the most badass priest-on-priest dance battle this side of purgatory.
Things really don't get going until about a minute in...
According to the Associated Press, many commenters chastised the holy men for dancing underneath a crucifix, to which Rider replied, "We would just refer them to the Bible, where the Lord tells us to live with joy."
O, snap!
(by Bob Powers)