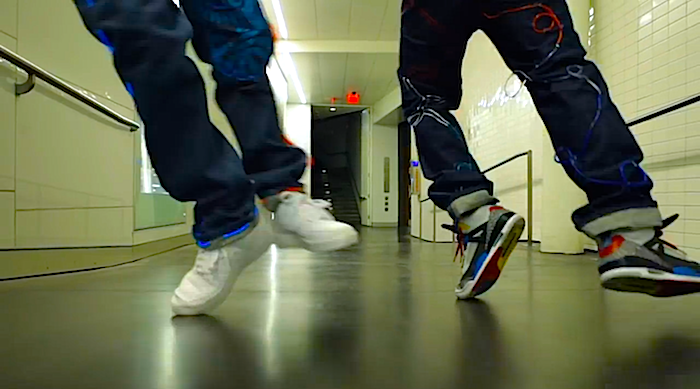 I'm going to start hanging out in hallways more often if this is what goes on there.
Meet Lil' Buck and Prime Tyme, two of the nation's foremost practitioners of Memphis Jookin, the dance style you see in this video. In reality, they are two cousins, Charles "Lil' Buck" Riley and Ron "Prime Tyme" Myles. After learning jookin from his sister in Memphis, Lil' Buck studied ballet for two years at Tennessee's New Ballet Ensemble, leading to the style you see here. In 2011, Riley and his cousin Myles performed with Yo-Yo Ma and others, and Spike Jonze captured it on his cellphone and uploaded it to YouTube (see below). Since then, they have travelled around the world and Lil' Buck even performed at the US-China Forum on the Arts and Culture in Beijing. But here, they merely make magic in the polished hallways of the subway station below Lincoln Center (the home of NY ballet and the Julliard School), and in what looks like the valet area beneath a large NYC hotel. 
The music is by Jenkees, although I doubt it would scare Velma (oof, sorry, I had to). You'll probably end up trying to do some of these moves later by yourself, because even though it must take years of practice, it looks like it must feel pretty amazing to master. This video is also a testament to the jadedness of New Yorkers. Please slap me if I ever walk by something like this without so much as a backwards glance. In the immortal words of Ferris Bueller, "Life moves pretty fast. If you don't stop and look at the incredibly cool dancers in this subway station hallway, you might be a joyless sack of human apathy." 
Here's Lil' Buck and Yo-Yo Ma back in '11:
And why not, here's Lil' Buck and Prime Tyme dancing under a bridge, because it's almost vacation and they're awesome.
(by Johnny McNulty)