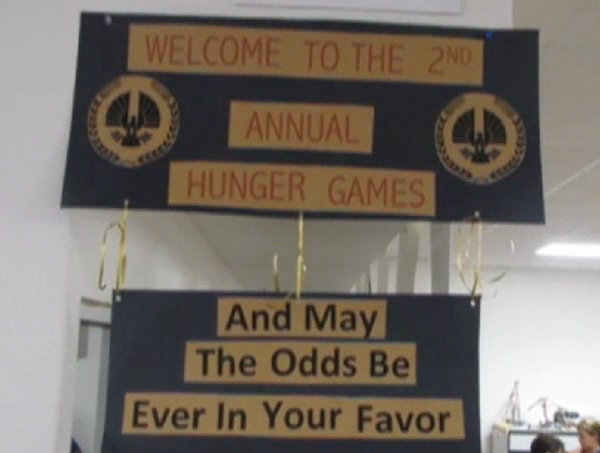 Wow, looks like it's straight from the movie set! (screengrab via Tampa Bay Times)
For a while there, it seemed like kids today were getting too soft. No one was even allowed to play dodgeball anymore (and where else were they going to learn the valuable skill of hiding in the back?) and everyone got a trophy. But then the Hunger Games trilogy gained popularity, and this summer, a camp held at Country Day School in Largo, Florida, held a week-long session with a Hunger Games theme.
The camp involved a week of developing different teamwork and athletic skills, culminating in their own Hunger Games. The kids who participated in it were really excited, because they were huge fans of the books and movies and also loved the idea of killing their friends. Here's what one kid had to say, which was typical of many campers:


Way to keep it real, kid. (screengrab via Tampa Bay Times)
Eventually, the staff became a little alarmed by how dark the kids' trash-talking was becoming. So they decided that instead of "killing" each other, the kids would have to "collect lives" in the form of flags attached to the other campers' waists. Naturally, this did nothing to deter the campers' baser instincts.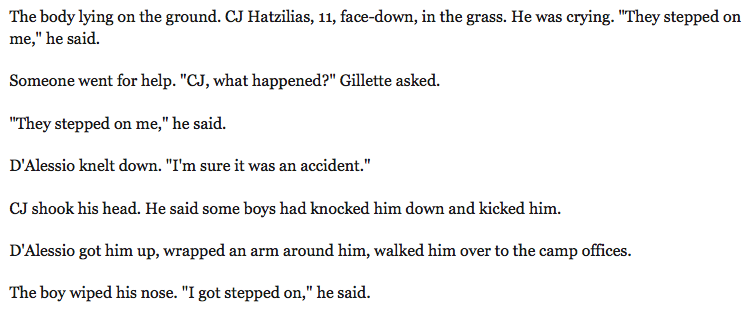 Hope the districts learned their lesson, then. (screengrab via Tampa Bay Times)
Here's a video from the Tampa Bay Times with footage of the camp:
(by Shira Rachel Danan)