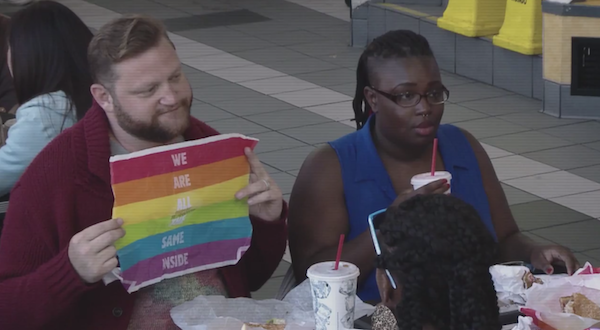 Okay, Burger King, we'll bite.
Burger King debuted a new burger this past weekend in San Francisco to coincide with Pride Week. The Proud Whopper is exactly the same as an original Whopper, only wrapped in rainbow-colored paper with the words "We are all the same inside." The message being that people, much like fast food burgers, are good, but also messy, fatty, and often cheesy.
Because no corporate good dead goes unprofitable, BK put together a promotional video to go along with the event. Even in San Francisco, some people were clearly uncomfortable with the idea of an out and proud burger. One bystander in the video says, "If that's what they're going to do, they won't be having my business anymore," before Googling "Chick fil A + San Francisco."