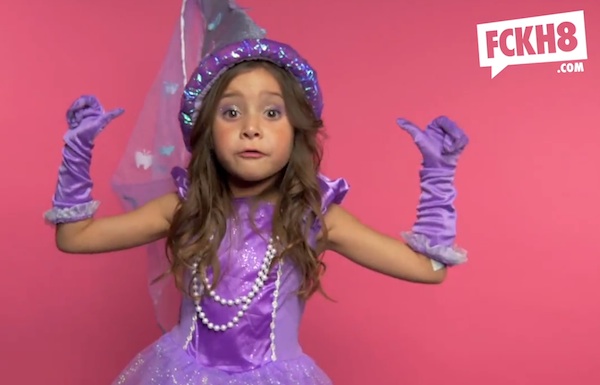 They're waiting for Prince Charming to come wash their mouths out with soap.
These sweet little girls in princess costumes aren't afraid to say the f-word, so wear headphones if you're watching this at work. The girls, ages six to thirteen, were brought together by FCKH8.com to promote gender equality in a video titled "F-Bombs for Feminism." FCKH8 is a t-shirt company that makes anti-racism, anti-sexism, and pro-LGBT rights products they hope act as "mini-billboards for change."
The girls in the video curse for a reason: to demand social justice for girls and women, including equal pay, an end to rape culture, and not to be treated differently just because they don't have penises. 
While the video's message is spot on, it's a little heavy-handed in its attempt to be shocking. The question the video addresses: "What's more offensive? A little girl saying f*ck or the sexist way society treats girls and women" is kind of meaningless. Only the video is asking us to choose! Still, the image of little girls throwing around f-bombs is pretty fun, and it's all for a good cause.
(by Shira Rachel Danan)