Good deed? Or the perfect trap! (Screencap via WKYC TV)
The man in the image above was caught on a surveillance cam stealing a wad of cash out of the tip jar at the Nervous Dog Coffee Bar in Stow, OH. Instead of calling the cops, the baristas at Nervous Dog decided to hold a food drive for him in what is either a really sweet act of holiday generosity, a huge passive-aggressive move to make him feel guilty, or the perfect way to lure the thief back into their clutches so they can exact some highly caffeinated vengeance.
The shop says it's the former.
"We assume that if he was desperate enough to steal tips, he's probably in desperate times," manager Scott Moses told WKYC TV News. "In the holiday spirit, we decided to help this guy out."
The man has not been identified yet, but both locations of Nervous Dog are collecting food items and have announced that the man is welcome back to the coffee bar and will be rewarded with the food if he does return. If not, the food will be donated to the Akron/Canton Food Bank by Christmas.
The shop posted about the food drive on their Facebook page, and they were met with some opposition for what could be perceived as rewarding a thief.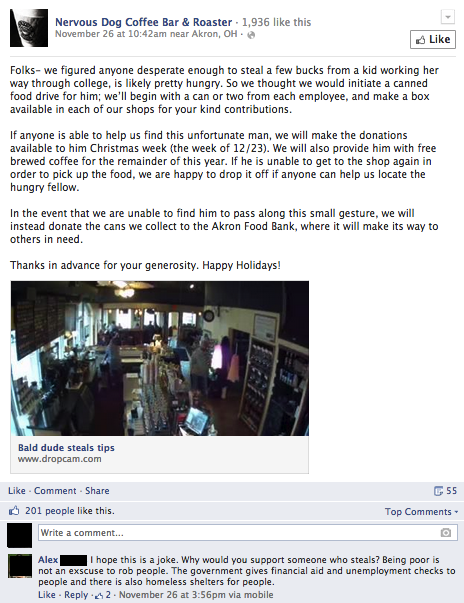 Full story below. Pay close attention at 1:04 when the reporter reads the line "Nervous Dog found grounds for generosity" just as the editor cuts to B-roll of some coffee grounds (actually, whole beans) to hammer it home because a pun like that cannot be left to chance.
(by Bob Powers)