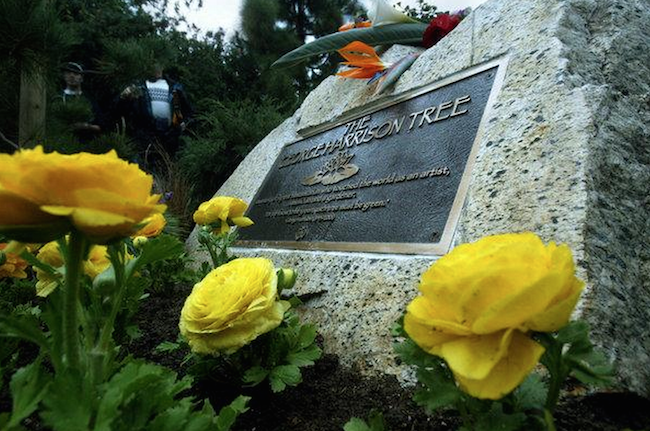 Something in the way they devour wood. (via)
It's a shame George Harrison isn't around, because he would've gotten a big kick out of this story. Although, if he were around, there wouldn't be a need for a George Harrison memorial tree in the first place. Regardless, Los Angeles Councilman Tom LaBonge said over the weekend that the tree planted in 2004 in Los Angeles has been killed by an infestation of beetles.
The news has generated an outpouring of emotion on the internet. Not from people upset about the death of a tree dedicated to the memory of a gifted musician and man of peace, but from furious online commenters arguing over whether the story is ironic or merely a coincidence. 
It's ironic, right? Spelling aside, if beetles destroying a tree dedicated to a man who helped create the Beatles isn't ironic, then I don't know what is. It would be a coincidence if the tree died of sun damage, or was buried under a pile of legal documents, or had been torn apart by a Japanese cougar. You get the idea.
Councilman LaBonge said the tree will be replaced, but a date has not been set.
Harrison, who loved gardening, and famously sang that "all things must pass," most likely wouldn't have cared either way. He probably would've been more upset if the tree had been kept alive using beetle-killing pesticides. 
For the record, that would've also been ironic.
(by Jonathan Corbett)