The "Good Causes" series connects socially minded readers with organizations and ideas that can change the world, for better or worse.
Change is the only certainty in this wild whack-a-mole world of ours. Tides ebb, wind whips the cliffs, seasons melt swiftly into the next. Every year, the leaves, so lush in summer, dryly litter our streets and lawns come autumn.
But society changes, too, not round and round on the painted-pony-ass carousel of seasons, but in a mad gallop toward a brighter horizon. Today, technologies like social medias and little plastic Paypal card swipers have made everyday reality what was inconceivable only a couple decades before. And that's why this year is the year that we, together, are going to keep all the leaves from falling off the trees.
Why? You know why. Because we need to know that we can. Because we all need to be able to look to our lefts and rights and see our newfound buddies Dominga and Sharif standing with us, doing what we're doing (taping leaves to trees), strivers together in this great human race.
It's a global initiative, and it's a noble initiative. It's a task as clear and crisply defined as the beautiful fall day on which that first bold cute mixed-race child tapes, staples, or hot glues the first leaf to the first tree. There's no ideology here, nothing to divide us. Yes, some will prefer to tie the leaves to branches with good strong twine, while others favor putty or just holding it in place themselves, but these are means to the same end. That end, to reiterate, is keeping all the leaves on all the trees.
Here's how you can – and will – get involved:
Start local! You probably have several trees right on your street, festooned with dying leaves. With a well-timed potluck or block party, you'll have a squad of happy neighbors ready to wrap them trunk to tip in clingfilm! It's almost like you're a community!
Share and get the word out! If everyone who reads this article sends it to 10 friends, and of those 10 friends, eight ignore it, one skims it, and one doesn't read it but messages back "thanks haha," then mathematically, in 48 hours, it will be two days closer to a world where all the leaves stay put.
I don't think we need to deal with pine trees or anything, but climate change is weird, so a few of you guys should at least be keeping an eye on them. Nothing excessive. "Trust, but verify."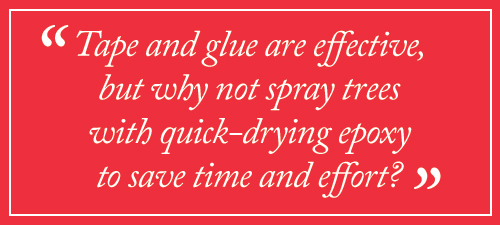 If you see a leaf on the ground, don't despair! Just pick it back up and nail it to the nearest tree. Nobody need know! And if anybody finds out, blind them with lyme!!!
Incentivize! How about the first fifty people to staple a leaf to a branch in your neighborhood get a "KEEP CALM AND KEEP ALL THE LEAVES ON THE TREES" tanktop? With CafePress, making custom apparel is a snap!
Get creative! Tape and glue are effective, but why not spray trees with quick-drying epoxy to save time and effort? Or, if you've got access to genetic sequencing and viral transformation equipment, experiment with producing GMO deciduous trees that never shed their leaves? Apply for an NSF grant, maybe! You've got literally several weeks to get this done!
If you cut down a tree we don't have to deal with it.
Use the hashtag #LetsKeepAllTheLeavesOnTheTrees2014, so that there's a hashtag in there somewhere.
These are just starting points; even so, every great journey starts with a few itemized bullet points. There are trees goddamn everywhere on this incredible planet, but together, we're more powerful than they'll ever be. We're like one gigantic multiethnic intersex muscular god wrapping his enormous body around a sapling. That's what it means to be human.
We've got nature on the ropes. It's time we choke it out, and then hit it with a chair... together.
Follow Dan Abromowitz on Twitter