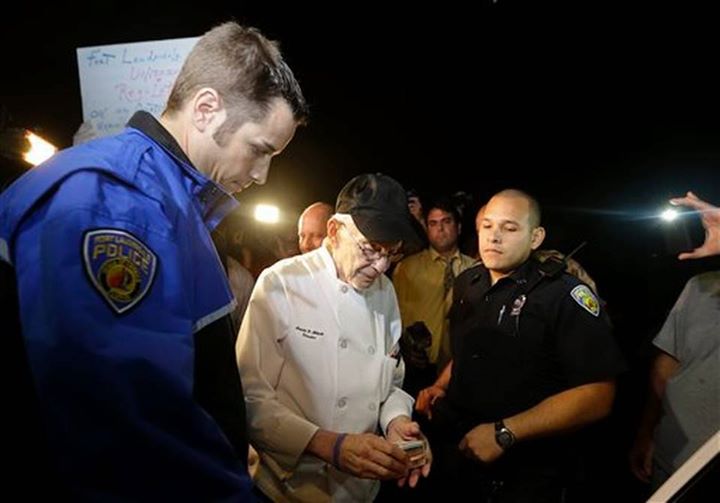 Justice has been served, by preventing dinner from being served. (via Matheu Moore)
Ft. Lauderdale, Florida, is a beautiful beach town where the nation's drunken, property-destroying, entitled Spring Breakers are welcomed with open arms every year to puke all over the white sand beaches, and where 90-year-old men who make it their mission to feed the homeless are removed by police, given citations (potentially costing $500 apiece) and possible jail time (90 days), and forcibly stopped from distributing food to the hungry. Twice in one week.
That's what happened to Arnold Abbot, a nonagenarian activist (and WWII vet), who has been feeding the homeless on the city's beaches for almost 25 years. He was arrested first on Monday alongside two church ministers, all part of a radical group Abbot founded called Love Thy Neighbor, which exists to feed the hungry. Apparently, an officer literally walked up and ordered him to "drop that plate." One of the pastors, Rev. Dwayne Black, explained Love Thy Neighbor's extreme agenda to the Broward Palm Beach New Times, "I don't think the city has a right to tell us we can't feed the homeless," said Rev. Black. "This is breaking my Christian vows." 
Someone control that mad dog!
This is separate from the arrest of eight members of a group called Food Not Bombs, who were sitting in a lobby hoping to meet with the executive director of Ft. Lauderdale's Downtown Development Authority about the ordinances. The director, Chris Wren, was not there at the time but claims members of the group threatened his assistant. Unsurprisingly, the members tell another story.
See, Ft. Lauderdale has a problem—it's warm and sunny there. Many Floridians see this as a big issue, because Americans who have fallen on hard times often avoid freezing to death in the winter by heading South, completely disregarding the fact that Ft. Lauderdale residents don't want to look at them. 
Undeterred by the continued alive-ness of the homeless, Ft. Lauderdale has tried many tactics, including seizing any private property that's been in public for more than 24 hours and issuing very harsh penalties for public urination. Many people argued that adding public restrooms would be a better solution, but they were met with the recommendation that homeless people walk to the hospital to relieve themselves. Just in case you forgot, we're talking about Florida. 
There was still that pesky food issue, though, and since you can't actually outlaw feeding the homeless, Ft. Lauderdale came up with the clever solution of making it illegal to share food with anyone unless you provide a hand-washing station, bathrooms, and of course, a permit.
Since church groups and nice people can't afford the extra expense of renting port-a-potties every weekend, paying for permits (if you get them), and taking time to fill out excessive paperwork, this only effectively outlaws feeding the hungry. Totally humane. Oh, and the food must be less than four hours old, so don't even think about making food the night before and putting it in Tupperware, you criminal scumbag. Also, everyone who volunteers has to be certified by the state and you have to dispose of water in a special vat... even if you're on the beach.
This is drawing comparisons to pre-1988 Miami, before the infamous Pottinger case ended an official policy of beating the homeless, taking their property, and burning it in front of them. We. Are. Talking. About. Florida. The only people in this story who probably aren't Floridians are the homeless, who wandered there when they remembered the heat but forgot about the crazy.
For the record, Ft. Lauderdale started seizing homeless people's property on September 24, the day that law went into effect (the food-sharing law went into effect on Halloween, because no one gives out food on that day). This has already resulted in a woman ending up in the hospital for three days after her breathing medicine was seized by police along with the rest of her belongings. Oh yeah, they also seized the recycling bags that homeless people collect. That's right, the one public service homeless people provide—collecting all our cans for a few measly cents—and they get penalized for that, too.
Oh, I just want to give a shout-out to this photo and caption from the Broward Palm Beach New Times, which deserves its own special Pulitzer: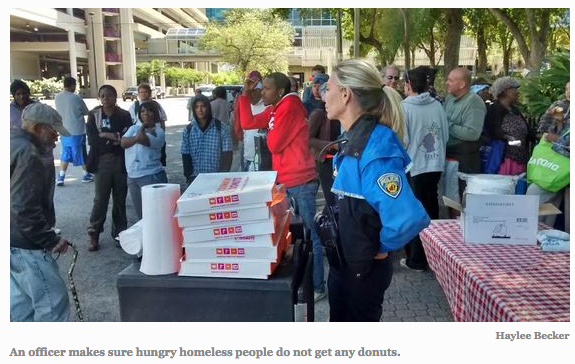 Way to go, BPBNT caption-person. Way. To. Go.
(via Broward Palm Beach New Times)
Yes, we are talking about Florida, but Ft. Lauderdale is just one of many cities nationwide currently trying to find ways to technically outlaw homelessness and live out their dreams of becoming Eric Cartman and leading all the homeless away from their towns. Because Eric Cartman is who you want your town's morals to resemble.
This story does not get any better, and quotes like "Just because of media attention we don't stop enforcing the law. We enforce the laws here in Fort Lauderdale" from the eminently punchable-looking mayor, Jack Seiler, don't make it any easier. Nor does the fact that Abbot has been serving meals on the beach for over two decades, or the fact that the requirement that outdoor food sharing be more than 500 feet away from a residential building practically necessitates doing it on the beach, where there are obviously no bathrooms or hand-washing facilities.
In conclusion, Ft. Lauderdale is a very nice place to retire after you're done giving a flying fudgsicle about anyone else's life.
(by Johnny McNulty)