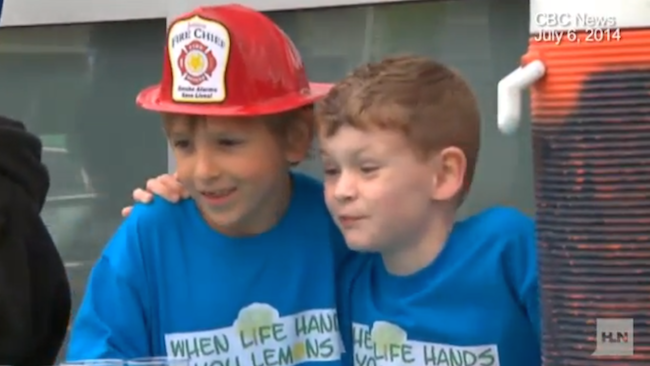 Brayden and Quinn, making the most of life's lemons.
When Quinn Callender found out that his best friend Brayden needed experimental surgery in order for him to be able to walk without braces, Quinn told his parents he was going to do something about it. So they helped him set up a lemonade stand outside of a grocery store near their home in Maple Ridge, British Columbia. Word got around town about Quinn's stand, and pretty soon the money starting flowing faster than the lemonade.
Quinn's stand raised some money, but not the $20,000 needed to get Brayden to New Jersey, the only place the surgery is available. So his parents decided to go bigger, and created My Buddy Brayden on the crowd-funding site You Caring.
As of this writing, over $55,000 has been raised. You know you're dealing with a pretty sweet story when even New Jersey comes out looking good. That's where Brayden will be headed in August, because his surgery has already been scheduled.
(by Jonathan Corbett)