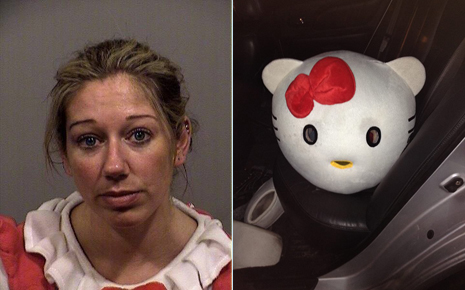 Hello Kitty, bye bye driver's license. (Via Gorham P.D.)
It's that time of year again when all of our criminal activities are masked with... masks. 
Today's costumed criminal is: Hello Kitty.
A woman dressed as the Japanese cute-splosion was arrested in Portland, Maine for adorably driving in the wrong lane.
Carrie Gipson, 37, was pulled over by traffic cops at 2am, and was drunk as a skunk (but not a cat.) She is now charged with operating under the influence and with wearing the bow on the wrong side of her head. Such a mix-up has caused investigators to look into whether the incident was actually caused by Hello Kitty's twin sister, Mimmy. 
It is unclear weather miss Gipson has a previous record, however this is probably not the first offense for Miss Kitty, who has her own line of AK-47s.
(by Myka Fox)