Most parents wouldn't know what to do if their daughter brought a hermaphroditic cat home with her, but Colleen Clarke-Murphy welcomed the visiter immediately as family.


I was born this way. (via CBC)
Meet Mittens! The very rare cat born with both sets of genitals.
At first Colleen thought the new family pet was just sick, so she was surprised to hear from the doctor the real reason why Mittens was having bowel and urinary problems: Mittens is both male and female.
Apparently, having both sets of genitals is getting in the way, and one of them is going to have to go.
The vet recommended a gender reassignment surgery to make Mittens male only.
Colleen is understanding, but it isn't what she would have chosen for Mittens.
"They're the ones who know what they're doing. I mean, I really don't know. I'd like for it to be a female, but it really don't matter. It's got both parts," said Clarke-Murphy.
"It's grumbly like my male cat, and it's friendly, it sleeps with me every night like my other female cats."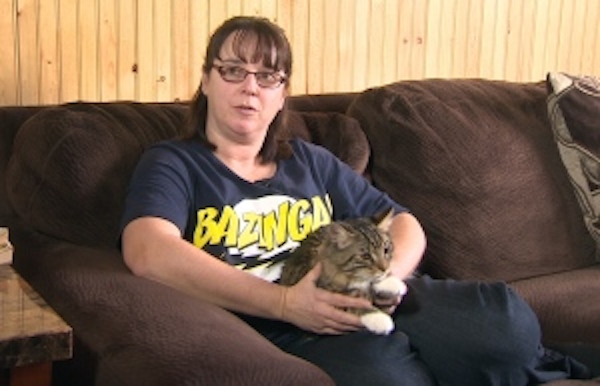 "It has the personalities of both." (via CBC)

The vet isn't just going to assign a gender to Mittens, he is also going to spay and neuter the animal. You can't be too careful. This might be the first time ever that someone takes literally Bob Barker's request that you spay AND neuter your pets.
CBC reports that after the spaying and neutering are done, the vet will perform reconstructive surgery on Mittens to give him proper male genitalia. If there are any vets out there that can explain how this could be done for a cat even though we can barely do it for people, give me a holler.
The bill for all of this is upwards of $1,500 and Colleen and her friends are having a benefit to help the confused cat. She just doesn't see any other way around it.
"She was part of my family when she came home with my daughter."

Thank you, Colleen Clarke-Murphey. You are a beacon of cat acceptance.