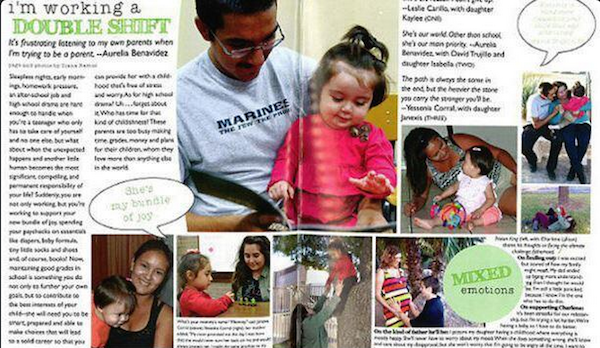 Cheerleading (1-3) single mom (4).  (via)
A high school in Mesa, Arizona might've known that devoting two pages of the 2013-14 yearbook to students with children or expecting babies would get some attention, but they probably didn't imagine it would become a national story. But that's exactly what's happened after many local residents started complaining that the spread, titled I'm Working a Double Shift, glamorized teen pregnancy.
Many angry parents feel the pages don't reflect all the difficulties involved with being a teen mother, because the pictures are of smiling students and happy babies, as opposed to being in labor or stocking the shelves of a supermarket at night to make ends meet.
It's not just parents that are unhappy with the layout -- a lot of students aren't thrilled either, and believe the teen mothers are being being rewarded for activities outside the school, so to speak. "There are other kids who have worked harder for more better accomplishments, and they have a whole page for their kids," said one student (who deserves a "D" for that sentence).
Whether or not teen pregnancy deserves a two-page spread in the yearbook is a matter for debate. That said, it's hard to imagine any kid getting pregnant just to be featured in next year's edition of I'm Working a Double Shift.
(by Jonathan Corbett)