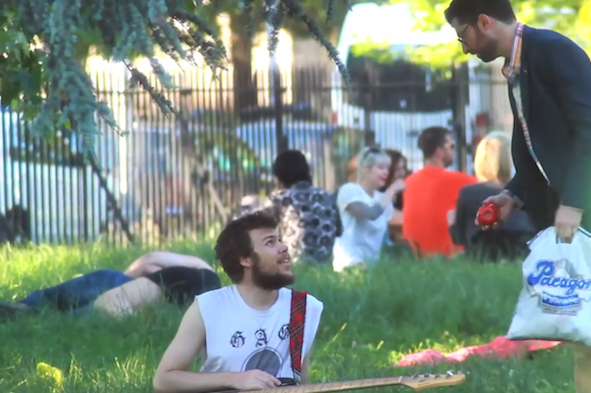 To be fair, I'd totally claim to be homeless for such a nice-looking apple.
Scott Rogowsky, host of the New York stand-up show Running Late with Scott Rogowsky (and formerly of someecards), is very concerned about NYC's large population of shiftless, hairy, unwashed, unemployable, poorly dressed youth. He's also concerned about the homeless.
Who says you can't make money playing kickball and wearing oversized kids' clothes?
Scott takes food, clothing, and money to Brooklyn's McCarren Park, the epicenter of East Coast hipsterdom. There he encounters the shaggy unkempt youth that represent the best, brightest and most ironic minds of our generation. Like many people, he mistakes their consciously bad fashion decisions for an unlucky hand in life and offers them help, with mixed but amusing results.