Best! Garbage Couch! Ever!  (Via)
You can usually assume that the the cushions of your second-hand couches are stuffed with nothing but old farts and bed bug carcasses. But perhaps you should double-check, like these three roommates did with their recently purchased Salvation Army model, only to discover their couch cushions were stuffed with $41 grand.
According to CBS 2 New York, roommates Reese Werkhoven, Cally Guasti and Lara Russo noticed after a couple months of sitting on their second-hand three-seater that the cushions had some awkward bulges. They decided to inspect.
"It had these bubble wrap envelopes," Werkoven told CBS 2. "Just like two or three of them. We ripped them out and was just like freaking out, like an inch and a half of hundred dollar bills."
After counting it all up, while taking breaks to take pics of themselves losing their shit, the couch windfall amounted to around $41,000...and one envelope bearing the former couch owner's name.
That's when these kids proved to be way more scrupulous than most. While $41,000 could have bought them any number of filthy used living room sets to lounge on, the roommates tracked down the name on the envelope to the elderly woman who used the couch as her personal Citibank.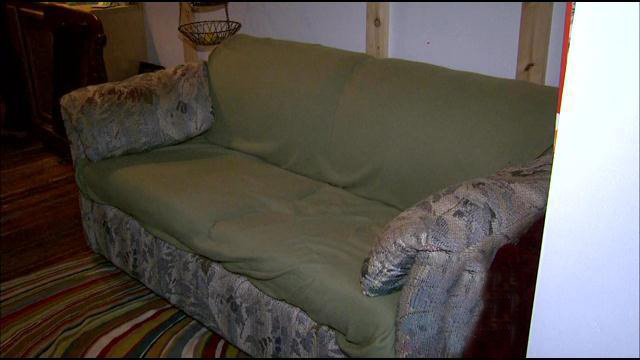 To look at it, you wouldn't think it could be traded in for a brand new Mercedes C-class. (Via)
The woman claimed that her family members donated the couch without consulting with her first to make sure a year of college tuition wasn't stuffed inside it. The roommates returned the money to her, and hope to have dinner with her soon (her treat, one would assume).
You may now commence tearing your used furniture apart with a box cutter.
(by Bob Powers)