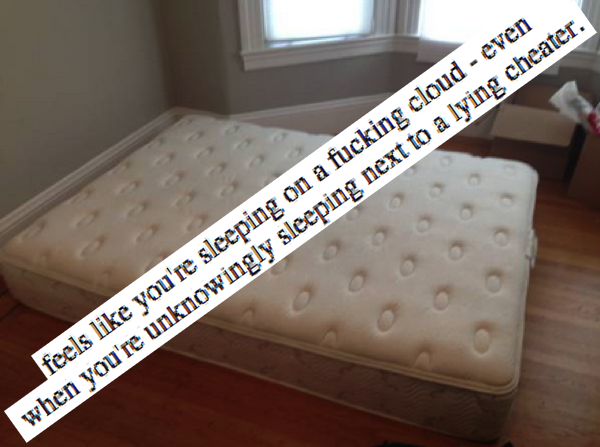 Very absorbent, can hold gallons of pained tears.
The trouble with loving a human is humans are generally awful. We give our love to them, and they give us nothing but pain in return. But we have to keep going. If we can't forgive, we have to at least learn to forget. We have to love again.
There's no better way to do that than to remove all evidence of the betrayer's existence. A symbolic first step is to discard the very mattress in which you and your partner's sleep-sweat comingled into the form of an exciting new pillow-top bacteria (I have a thing with beds, they gross me out a little).
This man's Craigslist ad disposing of the bed he shared with his cuckolding boyfriend (the genders aren't apparent, but a casual reference to the Fleshjack says it all) is an excellent template for anyone who's been spurned. Turn your pain into happiness for others. Pour your anger into a hilarious Craigslist post, and let the Internet carry that anger for you. Full ad below:
(by Bob Powers)