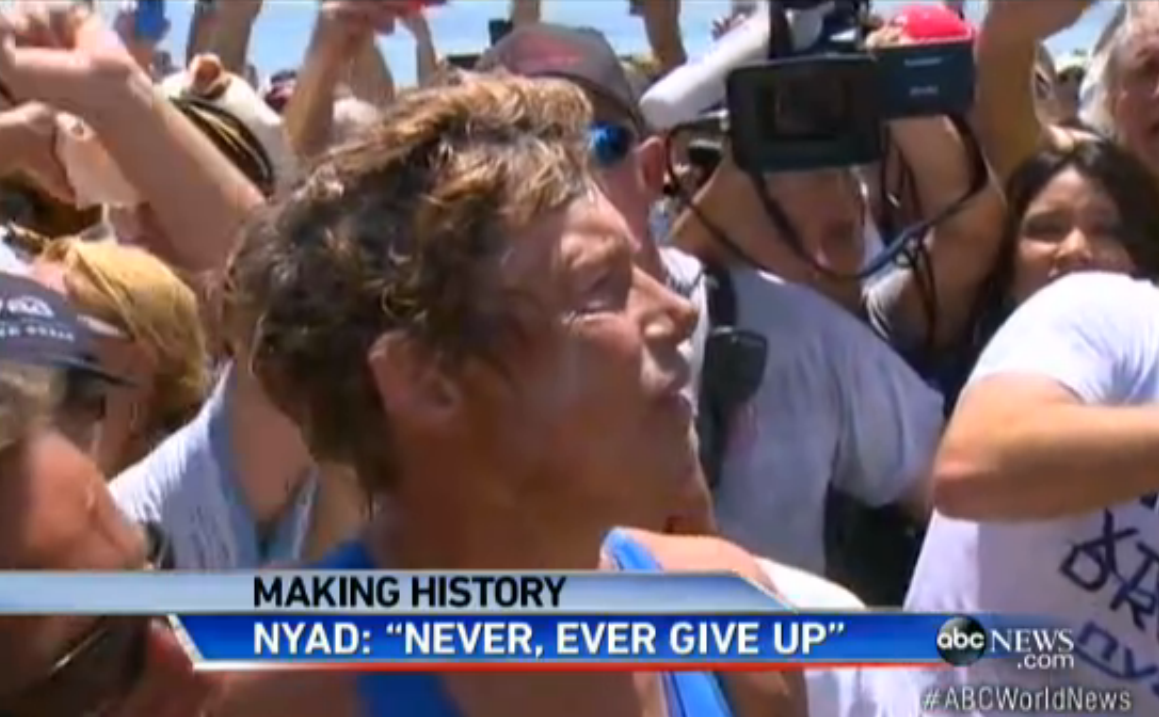 (screengrab via ABCWorldNews)
1) You should never, ever give up. Maybe you were planning to get an egg and cheese on a bagel for breakfast this morning, but the first place you went to was completely out of everything bagels. Remember: Diana Nyad failed the first time she tried to swim through jellyfish-infested waters from Havana to Key West. She failed the second time she tried. It took Diana Nyad five attempts to survive the punishing 110-mile swim, from which she emerged with a swollen and blistered tongue, sunburn, and severe dehydration. Do not let your dream die. Try at least one more bagel place before you give up and skip breakfast.
2) You are never too old to pursue your dreams. Perhaps you feel that your days of staying out past midnight are behind you. That nightlife is something for the young, and you're better off cozied up at home with a mug of low-acidity, caffeine-free Teeccino. Well, Diana Nyad first attempted this swim in 1978. She was only 28-years-old at the time. She achieved her goal 36 years later. She doesn't let age dictate her choices, and neither should you. So whip off that Snuggie, pull on your tightest pair of jeans and call up your friends to see if they want to go out. Just to get a drink. Just to have fun because life is too short to sit at home. They probably don't, because they've gotten lame, too. But at least you tried.
3) Don't let your fears control you. Every day on your commute, you try to get a seat on the subway. Sometimes you luck out, but other times you hold back, afraid to press forward and grab a spot that an elderly or pregnant person might desire. You don't want to seem pushy, and you let your fear of how others perceive you cause you to fail. Listen: Diana Nyad's record was for swimming from Cuba to Florida without a shark cage. Diana Nyad swam unassisted by flippers or a wet suit through the Florida Strait, a body of water famed for its hordes of sharks, a place where people die every year from being ripped apart by the most terrifying predators of the sea. She chose to put herself in danger because she refused to live a life tyrannized by fear. Take the last empty seat on the train. You'll never see any of those people again anyway.
4) Choose to live life without regrets. For thirteen hours in the middle of her swim this weekend, Diana Nyad was in agony. A specially designed face mask to protect against jellyfish bites made it difficult for her to breathe. But Diana Nyad decided to press on through the pain, because she knew that this might be her last chance. The next time you're feeling sort of exhausted by the lack of appealing options on Netflix streaming, and you're considering jumping ship and watching a few episodes of 1600 Penn on Hulu, do not cave to the temptation. Do not forfeit your dream for the sake of immediate gratification. Will this be your last opportunity to watch a movie on Netflix streaming? Probably not, but it's rare that you get a few hours to yourself. Do not waste the precious gift of time. Diana Nyad doesn't. Keep looking. There has to be something.
5) Conquering big goals takes a team. Pretending to work for an entire 8-hour day may seem like a solitary activity, but it isn't. It's important to recognize the people who help you waste time every day, just like Diana Nyad was certain to thank the team of support staff who helped her achieve her goal. Just as Diana Nyad depended on her teammates to hand-feed her calorie-dense foods, you rely on your similarly bored friends to feed you a steady stream of viral videos. Just as Diana Nyad needed a boat to trail a line ahead of her in the water and keep her on course for 53 slavish hours of pushing her arms and legs through seawater, you require a not-too-annoying coworker to take hour-long coffee breaks with. Just as Diana Nyad's medical team prepared her before, during, and after her journey, you, well, you don't really need a medical team.
But aside from physical fitness, mental determination, or overall worldview, you are just like Diana Nyad. And you can do it.
(by Shira Rachel Danan)