Bing couldn't translate this racist joke. Good job, Bing.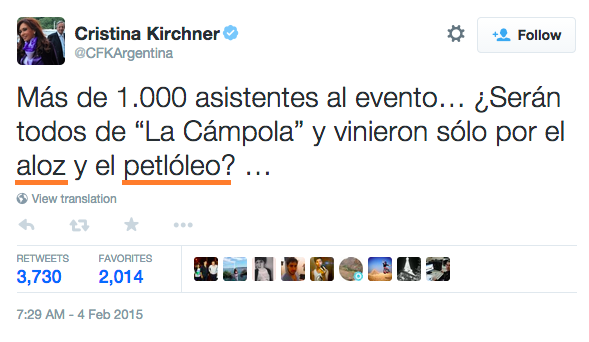 Translation: "More than 1000 attendees...Are they all [my supporters], and did they just come for the lice and petloluem?"
(via President Cristina Kirchner of Argentina)
Argentine President Cristina Kirchner is currently in China securing some of the $250 billion the Chinese have pledged to invest in South America over the next five years, which makes her grade-school humor about the Chinese accent's stereotypical "L" and "R" problems pretty bizarre. What's even weirder is that it's now pinned to the top of her feed in defiance of the controversy it has raised.


President Kirchner addressing Argentinians, who also sound funny to some people.
(via President Cristina Kirchner of Argentina)

Look at those two words Bing failed to translate: aloz and petlóleo. Even if you don't know Spanish, you might know that "arroz" means rice. Americans will also recognize "petróleo" as the word for their favorite substance in the world, petroleum. In addition, Kirchner's political youth organization in Argentina is known as La Cámpora...not La Cámpola. I know what you're thinking: I thought racist jokes usually turn the "L" into and "R," and not the other way around? I thought so, too. I don't know what to tell you.
After it immediately and predictably landed her in hot water all over the world, Kirchner issued a political non-apology, heavy on the "non":
Sorry. ¿Sabes qué? Es que es tanto el exceso del ridículo y el absurdo, que sólo se digiere con humor. Sino son muy, pero muy tóxicos.
— Cristina Kirchner (@CFKArgentina) February 4, 2015
"Sorry. You know what? The levels of ridiculousness and absurdity are so high, they can only be digested with humor," said Kirchner, according to the NYTimes (not Bing). I think a better translation might just be "Sorry some people don't get why I'm hilarious." The Chinese, who signed 15 deals with Kirchner covering visas, media, energy, information technology, space technology and finance, never brought it up.
CFK se reunió con Xi Jinping, ratificó la alianza con China y firmó 15 nuevos convenios bilaterales @CFKArgentina pic.twitter.com/b14XDcNmzE
— Casa Rosada (@CasaRosadaAR) February 4, 2015
And I mean, considering Kirchner's government is currently under a massive investigation into whether they had a lawyer (who had in his possession arrest warrants for the President and other high-ranking officials) murdered the day before he was due to testify that the Argentine government covered up Iranian involvement in a terrorist bombing in exchange for lucrative trade deals with the Islamic Republic of Iran...well, this might not be her biggest problem right now.
Cristina Kirchner, everyone!