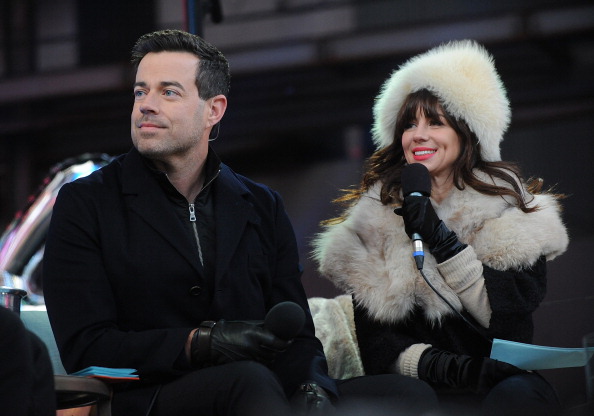 The not-at-all contrite Leggero with Carson Daly. (Pic via Getty)
It's barely even January, and 2014 is already looking to be the year sensible people battle back against the Internet mob. Comedian Natasha Leggero became the latest target of The Offended after she made a joke about Pearl Harbor veterans being old.
On New Year's Eve, Leggero was a guest on NBC's New Year's Eve with Carson Daly, and during some kind of "let's look back at the crap that happened in 2013" segment, Carson brought up a criticized tweet from the official SpaghettiOs Twitter feed about Pearl Harbor, featuring a cartoon SpaghettiO waving an American flag.
Leggero quipped, "It sucks that the only survivors of Pearl Harbor are being mocked by the only food that they can still chew." (Video below)
This resulted in the network coming "under fire" for being insensitive, at least according to this article which doesn't quote anyone but people on Twitter and Facebook. Leggero highlighted some of those sensitive Twitter users on an imgur page, sharing a sample of the tweets calling her a cunt and demanding that she be violently assaulted.
Typically in this game, the next step would be for Leggero to offer a weak apology so everyone can move on to attacking someone else. Instead, Leggero did a wonderful thing. She publicly announced that she refuses to apologize.
"Do you really want another insincere apology that you know is just an attempt at damage control and not a real admission of guilt?" Leggero wrote on her Tumblr. "I'm not sorry. I don't think the amazing courage of American veterans and specifically those who survived Pearl Harbor is in any way diminished by a comedian making a joke about dentures on television. Do we really believe that the people who fought and defended our freedom against Nazis and the Axis powers will find a joke about Spaghetti O's too much to bear?"