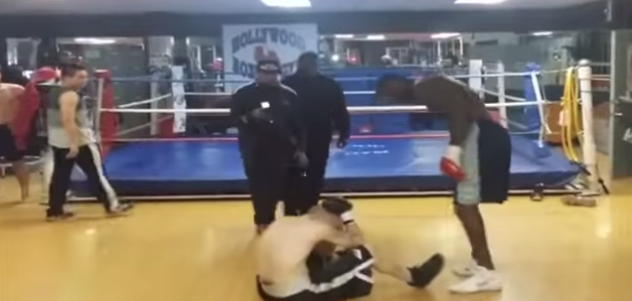 Let's get ready to humble!
Wearing blue trunks with a white stripe, it's professional boxer and 2008 Olympic bronze medalist Deontay Wilder. Wearing black trucks and using them to dust the floor when not running for his life is Internet troll extraordinaire who goes by the name, "Human Cyborg."
Evidently, the Cyborg had been programmed to harass Wilder with a relentless campaign of taunting texts, tweets and phone calls over the last couple of years, in which he threatened the boxer, used racial epithets, and made fun of his daughter who suffers from spina bifida. As bad as that is, the dumbest thing he did was challenge Wilder to meet him in a Los Angeles gym for a fight.
After throwing a wild right, it appears to dawn on him that it's a whole lot easier to be a tough guy on social media, which is why he turns to haul ass, perhaps in search of a phone or a keyboard. 
Who knows what Zelenoff was thinking might happen once they got in the gym, but judging from one of the his phone calls to Wilder that he posted online, what he lacks in smarts, he makes up for in misplaced confidence.
Unfortunately for Cyborg, Wilder is not only a better fighter, but considerably faster. He was also really, really pissed. The "fight" could've ended after one or two punches, but it seems like the boxer wanted to make sure the troll got the message.
That message was "Don't you ever call me a (N-word) again. Don't you ever say you're going to tape my daughter." True to form, once cooler heads separated the two, Cyborg rediscovered his swag, and claimed "I'm the best. I'm still the best."
And if you don't believe him, he's willing to meet you in person and take a beating to prove it.
(by Jonathan Corbett)