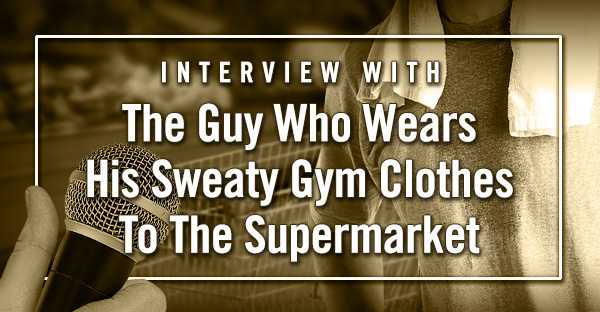 In a new series, we have a frank chat with the people who annoy us all on a regular basis. This week, we talked with The Guy Who Wears His Sweaty Gym Clothes To The Supermarket.
I am standing in the beverage aisle of Ralphs on Sunset Boulevard in West Hollywood, staring at a figure as recognizable as an 8-foot Coca Cola display and American as pre-sliced cheese. Dressed in his trademark look of a still-damp, oversized tee-shirt hanging loosely over a pair of knee-length basketball shorts, there is an ease about the Guy Wearing Sweaty Gym Clothes To The Supermarket that is all the more surprising when you consider how despised he has become over the years.
We've all seen him, or at least caught a whiff of him, throughout our lives, yet very little is known about the man himself. I was pleasantly surprised when he agreed to give me a few moments of his valuable time to help the rest of us to better understand this enigmatic, controversial figure.
Happy Place: First of all, thanks for taking the time to speak with me.
Guy Wearing Sweaty Gym Clothes To The Supermarket: No worries, bro.
HP: That's a lot of energy drinks.
GWSGCTTS: Ten for ten bucks. Can't beat that with a stick.
HP: What gym do you belong to?
GWSGCTTS: Apollo Fitness on La Brea. 
HP: Why don't you shower there after you're done with your workout?
GWSGCTTS: First of all, I'm never really "done" with my workout. I'll even get a couple reps in while I'm shopping. It's a lifestyle. Also, the showers at the gym aren't private, and I don't like being naked around dudes.
HP: A friend of mine is like that - he's never used a gym shower.
GWSGCTTS: See, there you go.
HP: He does it because he's embarrassed by his tiny penis.
GWSGCTTS: Trust me, that's not my problem. I live like five minutes from the gym. And If I piss in the shower, I know other dudes are doing it too, and I'm not buying flip-flops. Plus, one time I caught this skeevy-looking dude staring at me while I was shaving my balls. 
He takes a 32-ounce container of root beer in each hand and begins curling them.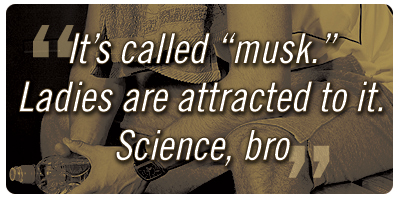 HP: What kind of work do you do?
GWSGCTTS: I drive an executive town car.
HP: You must meet a lot of interesting people.
GWSGCTTS: I'm not at liberty to discuss what I see or who I meet - It's the town car code. Maybe one day I'll write a book.
HP: Do you get weird looks in the supermarket?
GWSGCTTS:  The only ones I notice are from the ladies. Everyone else can get bent.
HP: Do you think the women may be giving you looks because you're giving off an odor?
GWSGCTTS: What I'm giving off is pheromones. It's called "musk." Ladies are attracted to it. Science, bro. 
HP: Have any men ever complained?
GWSGCTTS: Not to my face. And thirty! Yeah!
He puts the bottles of root beer back, grabs the handle of his cart and begins a set of reverse leg lifts.
HP: You shook those bottles up pretty good. They're going to fizzle all over the person who buys them.
GWSGCTTS: Serves them right for buying sugar water. 
HP: Do you throw on deodorant before you leave the gym?
GWSGCTTS: Usually. Why? (smells himself) Maybe it's this shirt. Weird, I hung it on the balcony last night. 
HP: It's probably all the sweat. Which living person do you most admire?
GWSGCTTS: Mickey Rourke.
HP: Why is that?
GWSGCTTS: He tipped me $200 for a three-hour booking. His dog crapped in my car. But it's still a sweet tip.
HP: Does it concern you that sweating around fresh food could be unsanitary?
GWSGCTTS: That's why I hit the freezer aisle for some stretching when I first get here. A proper cool down is essential.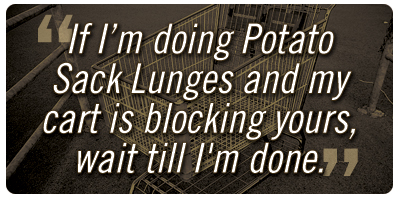 HP: No doubt. Is there anyone that bothers you in the supermarket? 
GWSGCTTS:  When people bring their little dogs in the store? Are you nuts?
HP: Do you make a stink about it?
GWSGCTTS: Not if she's cute. (forced laughter) Seriously though, leave your dog outside. 
HP: Anyone else?
GWSGCTTS: People who are totally out of shape buying cookies and ice cream. It's like, "That's why you're fat. Buy a banana or a Power Bar." I don't get it. Also, people who say "excuse me" with an attitude. If I'm doing Potato Sack Lunges and my cart is blocking yours, wait till I'm done. Or say "excuse me" like a normal person. (he gestures over my shoulder) Check it out.
An athletic-looking young woman wearing a baseball cap and yoga pants down the aisle is carrying a chihuahua in her basket. 
HP: Does that bother you?
GWSGCTTS: Are you kidding me? Check out the glutes on her. Damn! Are we good here?
HP: Yeah, I think so.
GWSGCTTS: Great. Would you mind helping me out in the detergent aisle?
HP: No problem. Are you going to do laundry tonight?
GWSGCTTS: No, I need a spotter for the 2-gallon Tide press.
(by Jonathan Corbett)