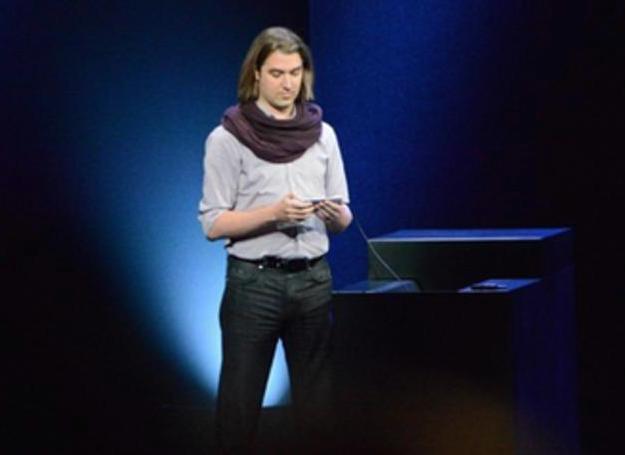 "This scarf has 50 terabytes of storage space." (via Mashable)
He had to know this was going to happen, right? A guy couldn't walk into a Starbuck's wearing one of those without everyone in the place mentally dubbing him "Venti Scarf Guy." Is that immature? Sure, a guy should be able to wear whatever he wants without being judged. But he wasn't at a runway show in Milan. He was speaking to a room full of geeks looking to spaz out at the new iPhone without being distracted by a purple scarf that could double as a duvet cover.
While he must have known that being so fashion-forward onstage at the Apple launch of the iPhone 6 would attract some attention, he probably didn't count on his oversized neckwear overshadowing the game company he was there to hype, Super Evil Megacorp. Unfortunately, what had everyone talking was his mega-scarf.
I wonder how long it'll be until Halloween Stores have a slutty Apple Keynote Scarf Guy costume for sale... pic.twitter.com/qtrqdXu6Ez

— Tony D. Clark (@nestguy) September 9, 2014
is this guy wearing an infinity scarf or did he only halfway take off his sweater?

— clint (@CLINT) September 9, 2014
What if that guy's scarf is the Apple wearable? Forget the wrist, it's all about the neck!

— Tanuj Parikh (@tanujparikh) September 9, 2014
GOLD. SILVER. SPACE GRAY. pic.twitter.com/3Tg1Ed7Lwx

— Shaun Pendergast (@ShaunPendy) September 9, 2014
Keynote Scarf already has a parody Twitter account, with twice as many followers as @superevilmegaco.
PAY ATTENTION TO ME #AppleLive #scarf #AppleEvent pic.twitter.com/DyIYGnXion

— Keynote Scarf (@KeynoteScarf) September 9, 2014
While the game presentation may not have had the impact its developers were hoping for, today was a huge day for huge scarves.
 (by Jonathan Corbett)