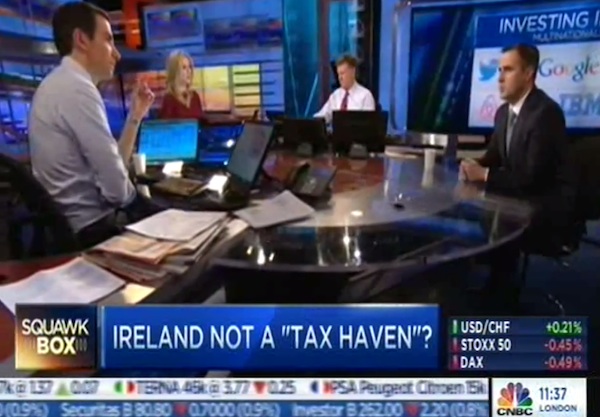 What's an Ireland?
A CNBC interview with the new chief executive of IDA Ireland, which encourages direct foreign investment in Ireland, went horribly wrong yesterday when an American host refused to believe that Ireland uses the Euro. 
The madness starts at 6:55:
Joe Kernen, a co-anchor on the program Squawk Box, kept insisting to interviewee Martin Shanahan that it was a huge mistake for Ireland to use the euro when they could be using the pound. Because if there's one thing Irish people love, it's when people ask them why they wouldn't just want to be under English rule again. Kernen was absolutely mystified by the revelation that Northern Ireland is part of the UK, and Ireland is a separate country. "That's just too confusing," he said. Kernen's information about Ireland all seemed to be based on a golfing trip he once took to Scotland (not technically part of Ireland, though they are close by).
Meanwhile, Shanahan tries not to look too embarrassed for Kernen, even though he is probably also annoyed that someone interviewing him about his country's economy couldn't be bothered to google its currency. Looks like if Shanahan wants Americans to invest in Ireland, he's going to have to start by explaining what Ireland is. 
Here's how it went down:
Kernen: You have pounds anyway, don't you still?
Shanahan: We have euros
Kernen: You have euros in Ireland??
Shanahan: We have euros, yes, which has—
Kernen: Why do you have euros in Ireland?
Shanahan: Why wouldn't we have euros in Ireland.
Kernen: Huh? I'd use the pound.
Shanahan: No. We've had the euro for some time and we're very happy with it.
Kernen: What about Scotland? I was using Scottish, uh—
Shanahan: Scottish pounds? Yeah, so they use sterling.
Kernen: They use sterling?
Shanahan: They use sterling. But we use euro.
Kernen: (mind has just been blown) What?! Why would you do that?
And it only gets worse from there. Would have expected more from a program called Squawk Box.
(by Shira Rachel Danan)