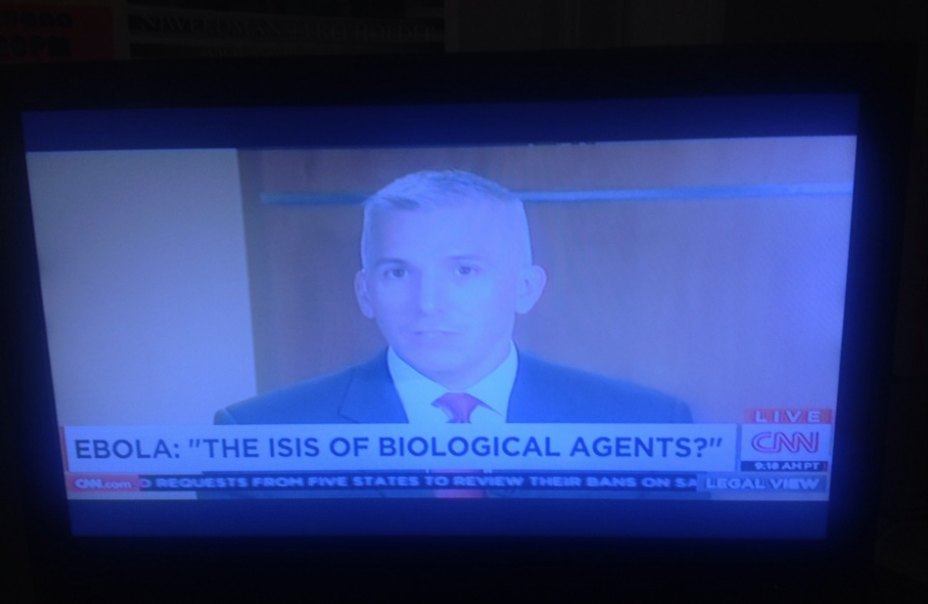 CNN: "THE EBOLA OF ISIS FEAR MONGERING?" (Via)
This screenshot posted by redditor flapjackKing displays CNN's headline this morning "EBOLA: 'THE ISIS OF BIOLOGICAL AGENTS.'"
As if the American public wasn't worried enough about the threat of EBOLA, CNN had to go ahead and cram "ISIS" into the title, just to make sure we were good and scared of it. 
But what is calling Ebola the ISIS of biological agents supposed to mean to us? That Ebola is an extremist threat from Iraq and Syria? Or, maybe they're attempting a more metaphorical approach, alleging that Ebola is unpredictable and poorly understood, as is the threat of ISIS? Or maybe the two are temporally linked due to how they bounded onto the fear scene at the same time, the way that Cholera was "the Napoleon of intestinal infections."
It's so hard to tell what these titles mean when everyone is in a state of panic, except that Ebola and ISIS aside, what CNN is most afraid of is not having enough buzzwords in the headlines of their news stories.
Never mind that ISIS may in fact be trying to create biological weaponry, lets just think about ISIS as being synonymous with the biological agent we already have on hand. CNN wants us to think they are both terrifying, out of our control, and the best way to protect ourselves from either is to just build a bunker, hide out in it, and watch CNN until they both blow over.
(by Myka Fox)