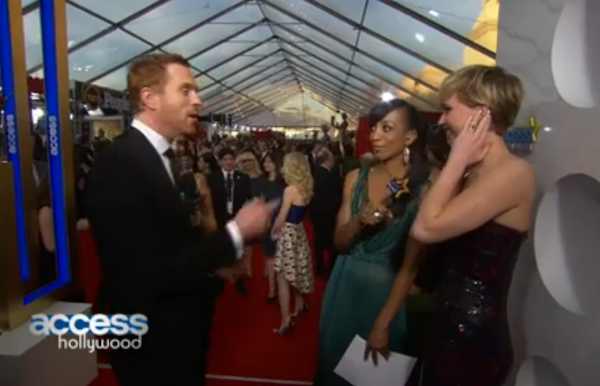 Sigh. We're so excited for her hair to grow out.
While on the red carpet for the Screen Actors Guild Awards, JLaw ran into Damien Lewis and totally geeked out. She begged her interviewer not to call him over, but the interviewer wisely spotted an opportunity to watch Lawrence freak out and introduced the two stars. Lewis, who plays Nicholas Brody on Homeland, was very gracious as JLaw described her love of the first two seasons of the show.
She was very clear about that "first two seasons" part.
Then JLaw's interviewer and the woman interviewing Lewis revealed a HUGE season three finale spoiler (watch below). Lawrence looks shocked for a minute that someone would reveal a spoiler so carelessly. And then Lewis asks her "Are you crying?" And in fact, she does indeed appear to be crying as she calls her interviewer a "monster."
She recovered nicely, but we are still pissed on her behalf. You don't throw around spoilers like that. And you certainly don't toy with Jennifer Lawrence's emotions. It just isn't right.
***SPOILER ALERT BELOW***
Here's the clip:
(by Shira Rachel Danan)