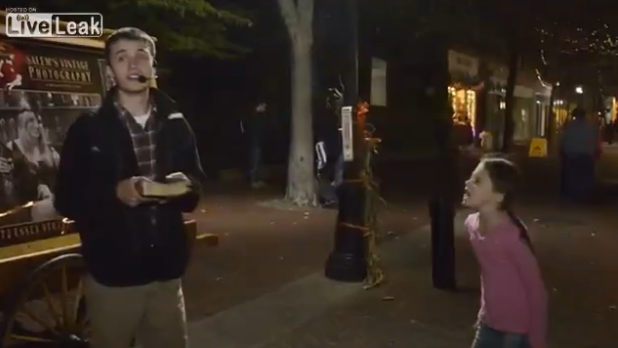 Kids say the darndest things when people talk about God into a microphone.
Without making any judgements on religion itself, I often wonder how effective it is to get mic'd up like a hostess at Applebee's and preach The Word at people as they try to get from their cars to the Chili's across the street. Surely, in the midst of the Information Age, people have heard already heard the Good News. It just isn't that hard to "find Jesus" anymore, he's right over there.
Having seen many a street preacher in my day, I can witness that most people, when annoyed by an auditory intrusion, simply choose to turn the other cheek. This little girl wasn't having it. She wasn't so much concerned about what he was saying (although she wasn't all that impressed with "blah blah Jesus"), but rather, she just wanted him to be quiet. 
He is exercising his free speech, and so is she, but is it ruder to scream at someone in the street than to amplify your non-screaming voice in the street? The folks on reddit seem to think so. As one redditor noted, "She kept looking at the camera which makes me think her parents are recording her after they asked her to yell at the guy," which caused another to think the video should be renamed "Disrespectful girl has shitty parents."
I kinda agree. If these parents really wanted to teach their child to express dissent, they should have told her to speak calmly, and helped her with a more compelling argument than "shut it."
(by Myka Fox)