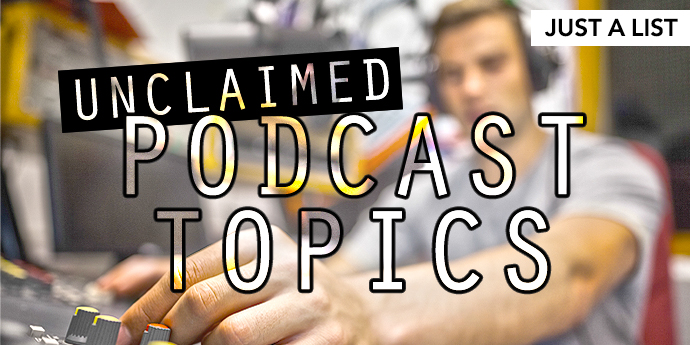 Podcasting is a great way to share your passion with a broad audience, but in such a popular medium, finding an unclaimed niche can be a challenge. Here are some topics that have yet to be explored:
Light Beers
Bodybuilders On Mushrooms Crying At Animated Movies
There's a Miniature Horse in the Studio
Scott Bakula's Shit List
Tennis Coverage With a Strong Transphobic Bent
Did Sex and the City Predict 9/11?
Are They Still Dead?
History's Greatest Lottery Numbers
The DSM-V in Radio Play Form
The Oral History of the Cherry Poppin' Daddies
Drake Songs, Described
Three Comedians Doing Christian Slater Impressions Discuss Human Trafficking
Quentin Tarantino Shouting at Maitre D's
How Does a Barometer Work?
Hair We Found
Nude Scenes Narrated
Wait, Did We All Forget To Read Diary of a Wimpy Kid?
Bat Astrology
Is It a Melanoma or a Crushed Chocolate Chip
Harassing Daniel Craig With Blowdarts
MMA at the Office
This Day In Herstory
What If There Were Way More Pandas?
Surfing Wikipedia on Dial-Up
Very Large Prime Numbers
Objectivism in Dilbert
Who's Fucking Who On The International Space Station
Would Benjamin Button And Jack From Jack Be Friends Or Enemies
What Molasses Is For?
Rewatching Frasier With David Hyde Pierce Staring At Us The Whole Time
Repeatedly Explaining Why Children's TV Isn't Just For Kids
How Many Episodes Can We Wring Out Of This Solange Thing?
Is Music Gay?
(by Dan Abromowitz)