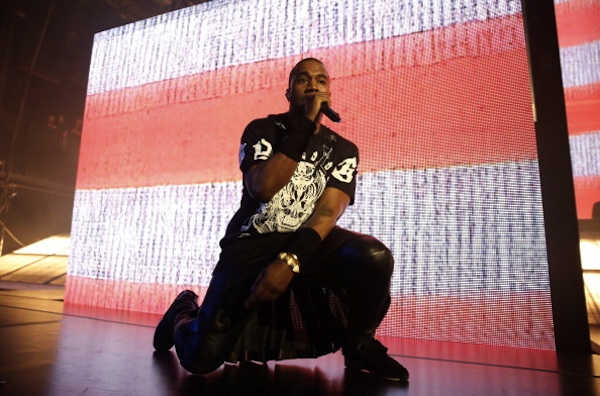 "This isn't a Frozen sing-a-long. This is rap f*ckin' music!" (via Getty Images)
Last night, Kanye took five minutes (which actually, in Kanye-rant time, isn't very long) out of his concert to encourage his fans to "run the video" and decide for themselves. You know, the video where Kanye appears to delay a performance in Sydney until a woman with a prosthetic limb and a boy in a wheelchair stand up. The one the "media press news" are making such a big deal about. 
Media press news like us! That's right, we here at Happy Place took it upon ourselves to help Wheelchair-Gate blow up into the biggest, craziest Kanye scandal since ImaLetYouFinish-Gate. Thanks for the shout out. We're blushing. 
According to the rapper, the media wastes their time reporting on stupid stuff Kanye says while America has much bigger problems, like "kids getting killed every weekend in Chicago." Apparently, in his mind, Kanye has never been the type to distract us from those harsh realities by turning his life into an amusing spectacle that plays out on social media. No way! He's just a "married, Christian man," who occasionally has public foreplay on Twitter with his lawfully wedded wife, gosh darnit.
And anyway, if he is offensive sometimes, too bad! He's not supposed to be "G-rated"! This is "rap f*ckin' music," after all.
Here's the video in full, and here's a transcript, if 5 minutes seems like an exceptionally long time to listen to Kanye rant:
(by Shira Rachel Danan)