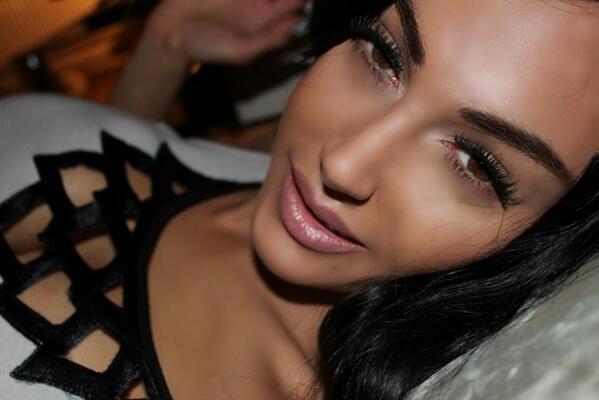 Claire Louise Leeson, "keeping up" a little more diligently than the rest of us. (via Twitter)
Have you guys ever thought, "Wouldn't it be great if there was more than one Kim Kardashian?" Of course you have! There being only one Kim K is the reason why you're always complaining that you don't see enough of her in magazines, on basic cable, and all the Internet websites ever. Well, Claire Louise Leeson has heard your pleas and she went ahead and spent thirty grand to make herself look exactly like Kim. Check it.
@claireleeson_x reckons she looks like @KimKardashian pic.twitter.com/cXBBJQF8x1

— Mrs Emre Shan (@Shannxo) July 15, 2014
I'm seeing double. Am I drunk? Probs.
The 25-year-old Brit began "Kimming" herself at age 17. According to the story she told Britain's "This Morning," Leeson spent her youth being bullied for being "ugly." She says her life changed when she saw Kim on "Keeping Up With The Kardashians," and she's spent thousands on procedures to look more like the star ever since. This apparently involves getting bigger boobs, whiter teeth, a spray-tan, and until she gets full-on butt implants, she wears padded pants to approximate Kim's ass.
loved last years birthday style ! xxx pic.twitter.com/hh7HKnsHJK

— claire louise leeson (@claireleeson_x) July 13, 2014
Uncanny.
Not sure how they feel about Mrs. Kanye in the UK, but considering the reception Kim usually gets on the web, Leeson should probably avoid scrolling through the comments section of this post if she wants to avoid bullying.
Which leads us to today's poll question: Which Kardashian sibling (or Jenner! Jenners count!) would you be most likely to spend the equivalent of a Toyota Prius to look like? I'm going with Mama Kris. You?
(by Bob Powers)