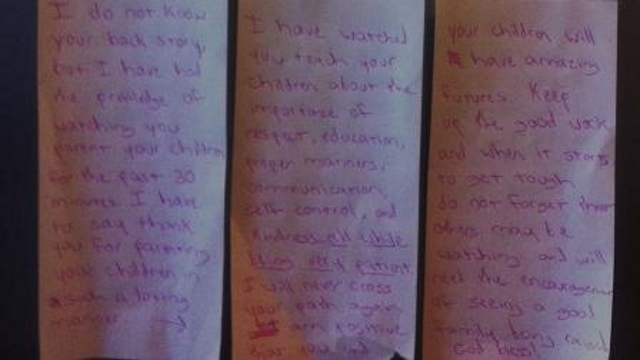 See this illegible nonsense typed out, below! (image via ABC)
In the midst of a messy divorce, a single mom from Raleigh took her three kids out for dinner at Pizza Hut. The kids had their share of problems: a four-year-old with a tendency to bully, a six-year-old with Asperger's and ADHD, and a college student who was forced to take a year off. But the unidentified mom felt it was important to maintain the family tradition of going out to dinner on Friday nights, because they're a family, goddammit, and families eat at chain restaurants!
Seated nearby was a young man, so the woman apologized in advance for how loud her kids could be. The man said it was no problem, since he had three kids himself (whom he apparently no longer brought to dinner with him). During dinner, the woman did her best to engage her kids and keep them from misbehaving, but I'm assuming at least one parmesan shaker was unscrewed and dumped out on the table.
Then, toward the end of the meal, the waitress and manager came over. They told the woman that the man she'd apologized to had covered her bill for dinner and left her a Pizza Hut gift card. He also left this touching note: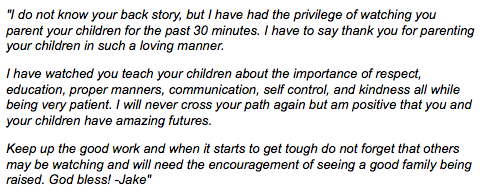 Superheroes and moms always have back stories. (transcription via ABC)
The mom wished she had gone ahead and ordered the garlic knots (j/k!), but otherwise was moved. Even though I kind of hoped the two of them would fall in love and morph into an adorable Brady Bunch-style clan, it's still a nice story.
(by Shira Rachel Danan)