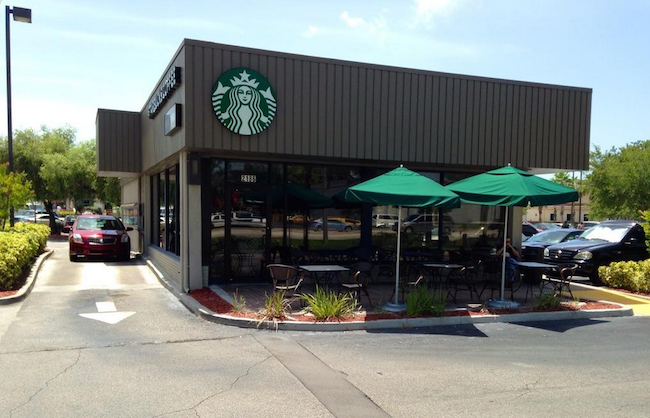 A venti act of kindness. (via)
It started at 7 AM, when a woman at a Starbucks drive-thru decided to commit a random act of kindness by paying for the coffee of the customer in the car behind her. By 6 o'clock that evening, 378 people had taken part in the impromptu game of "pay it forward," helping to create the most uplifting story to come out of Florida since the invention of thongs.
The manager of a St. Petersburg Starbucks said that the chain of goodwill was kicked off by a woman in her mid-60s. A nice gesture, but wouldn't have become a viral story if the person behind her grabbed their free drink, yelled "score!" and drove off. Instead, that person made the decision to pay for the next person, who paid for the next person, and so on for the next 11 hours until buzzkill customer 379 decided to poop in the proverbial punchbowl. 
Barista Vu Nguyen said a woman driving a white Jeep Commando seemed confused by the idea and just wanted to pay for her cup of coffee. It's also possible she thought the Barista was running some sort of scam, pocketing hundreds of dollars from people he tricked into believing they were part of some feel-good movement. A scheme that's probably going on all over the country now that this story has gone viral. That's just how these things tend to play out.
Still, the fact that nearly 378 people took part in the chain of kindness before it ended is so inspiring, it makes me want to quit my job and hand out free hugs in the park while singing "Age of Aquarius." Ironically, if I was to give in to that temptation, within a few days I'd be begging for change in order to buy a cup of coffee.
(by Jonathan Corbett)